Ambrane, a local electronics brand has launched a new smartwatch in the market – the Ambrane Wise Eon Max. Ambrane's latest budget smartwatch is a successor to the Wise Eon Pro. It boasts various impressive features. In this article, we'll dive deep into what sets the Ambrane Wise Eon Max apart from the competition and why it's a must-have for anyone looking for a high-quality smartwatch under ₹2000.
Design and Build Quality
The Ambrane Wise Eon Max features a sleek and stylish design that's sure to turn heads. The watch boasts a large 2.01-inch color display with a 60Hz refresh rate that's easy to read, even in bright sunlight. The device is lightweight and comfortable, making it perfect for all-day use.
However, the silicon strap is of good quality. The watch is made of high-quality materials that are built to last. The device is water-resistant, making it suitable for all kinds of activities.
Features and Specifications
The Ambrane Wise Eon Max is a feature-rich smartwatch with BT Calling, SPO2 sensor, and many more. Let's have a look at the features:
Big Display: The watch sports a big 2.01-inch LucidDisplay. With a peak brightness of 550 nits, it is easy to use the smartwatch in bright sunlight. The 60Hz refresh rate makes it easy to navigate through the watch.
Bluetooth Calling: The watch features Bluetooth calling that allows you to make or answer calls with an in-built mic, speaker, fast dialer, and contact sync.
Health Monitor: Ambrane Wise Eon Max comes with multiple health features such as SpO2, 24X7 Heart Rate Monitoring, Blood Pressure, Sleep, High Heart Rate Alert, Menstrual Tracking, Steps tracking, and more. It helps in keeping track of your health with 100+ sports modes to track your activity.
Personalized Watch Faces: The Ambrane Wise Eon Max lets you customize your watch face allowing you to choose your custom wallpaper whether you want to create using AI, or you can select amongst 100+ cloud-based watch faces.
Water Resistance: With an IP68 rating, water is not a hurdle in your activities.
Smart Notifications: It lets you monitor all your notifications from your wrist. Be it calls, SMS, Whatsapp, or other social media notifications.
Battery Life: Ambrane promises a 10-day battery life with a 280mAh battery on the smartwatch. It takes 2 hours to charge the smartwatch.
Voice Commands: The smartwatch is smart enough to support voice assistants like Google Assistant or Siri to make your life easy.
Connectivity: In terms of connectivity, the watch supports Bluetooth v5.0. It comes with app support and is compatible with both Android & iOS.
Other features include sedentary reminders, remote control for camera & music, in-built games, alarms, a flashlight, etc.
Pricing and Availability
The Ambrane Wise Eon Max is priced at just ₹1,799/- making it an affordable option for anyone looking for a high-quality smartwatch. The watch is available for purchase on the brand's website and Flipkart.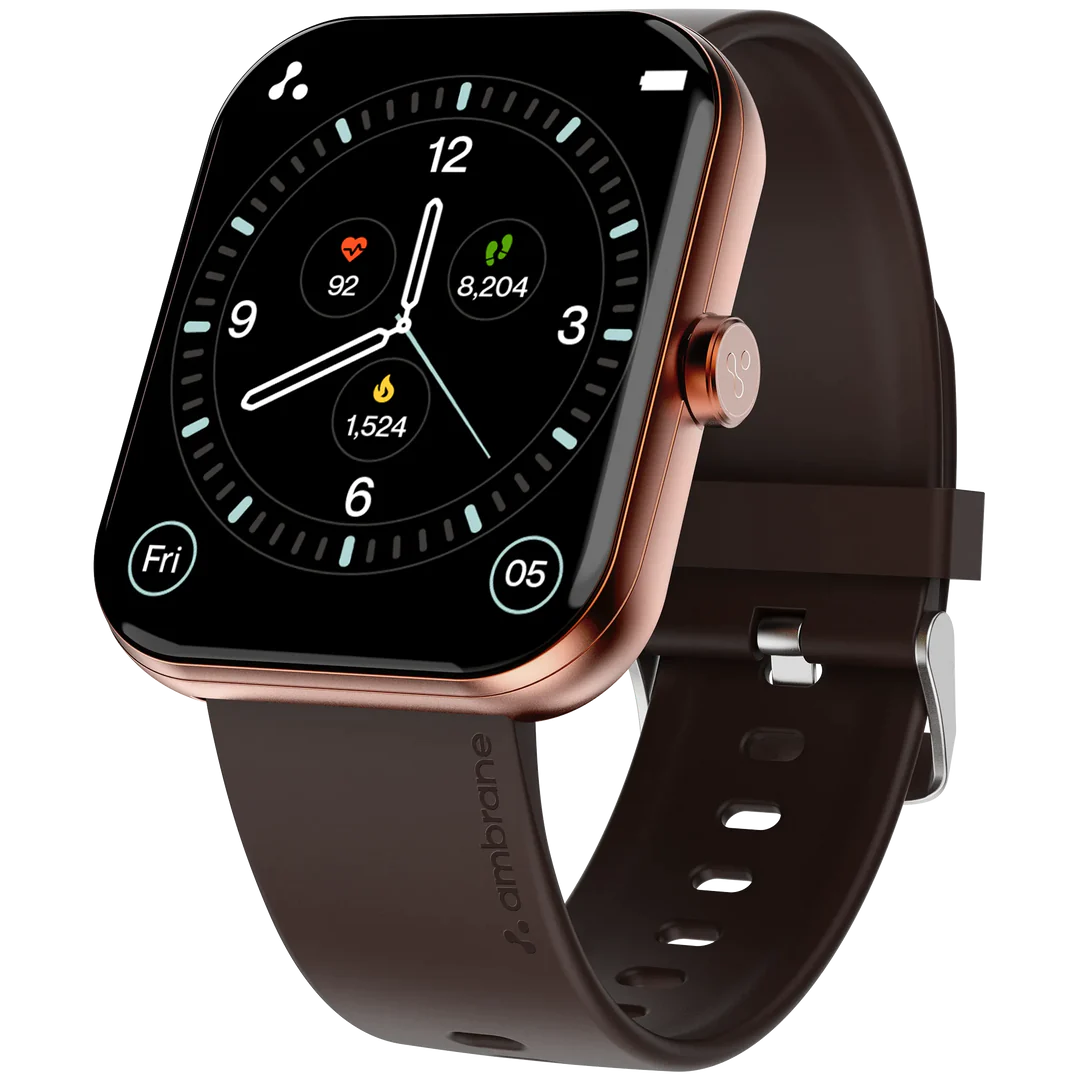 Ambrane Wise Eon Max is a budget smartwatch with a 2.01-inch Display and other Health features launched in India
Conclusion
Overall, the Ambrane Wise Eon Max is an excellent smartwatch that offers various impressive features. The watch is sleek, stylish, and feature-rich. It is available in multiple colour options like Black, Blue, Grey, Brown & Burgundy. It offers a perfect combination of features, style, and value for money.
Big & Bright Display
BT Calling
Decent Battery Life
Good value for money
No Built-in GPS
Strap quality could have been better
Which app is to be used for running the smartwatch?
Da Fit App is available for both Android & iOS users.
What android and iOS version is compatible with the Ambrane Wise Eon Max?
The smartwatch supports Android 6.0 or above, and iOS 10.0 or above.
How to configure the Smartwatch for BT Calling?
For iPhone
After successfully connecting the smartwatch with the Mobile app, manually search and connect the "Eon Max Phone" shown under the Bluetooth section separately on your iPhone. After establishing a proper connection, the user can receive and make calls from the watch.
For Android
After successfully connecting the smartwatch with the Mobile app, a second prompt will appear on the screen to connect to the Eon Max Phone. Pair the watch and now your smartwatch is ready to make and receive calls.
Can calls be dialled through the watch?
Yes, the watch has an inbuilt dialer option for making calls. The phone's cellular network will be used for making the call.
What is the battery life of the watch?
The battery life is based on the usage patterns of the customer. The watch generally offers up to 10-day battery life on regular usage. Up to 2-day battery life on continuous BT calling and a standby time of up to 25 days on a single charge.
What are the different modes available in the watch?
The watch has DND Mode and Low Power mode.
Is the watch water-resistant?
The watch is IP68 water-resistant, splash, and sweatproof. However, it is not recommended to use during Deep diving, Hot Sauna bathing environments.
Can the watch straps be changed?
Yes, the watch straps are changeable.
How to apply an AI watch face?
Create desired AI-based watch faces in simple steps:

i) Go to Device > Watch Faces > Edit > AI WATCH FACE
ii) Click the photo. Tap on "Generate".
iii) Now choose, adjust, and create your AI watch face.
iv) Click on "Confirm" and finally "Save."
Does the smartwatch have AOD?
No, Ambrane Wise Eon Max does not come with AOD.
For more news about upcoming smartphones and popular products, and recommendations follow us on our Facebook, Instagram, and Twitter.
This article may contain affiliate links that Reviewhub's owner or publisher may receive a commission from if you buy a product or service through those links.