Google has finally launched the new Android OS, technically called Android 8.0, named Android Oreo. Google unveiled Android 8.0 yesterday at an event in New York City, during the nation's solar eclipse.
The new version of Android looks and feels a lot like the previous Android Nougat, but brings new features, tweaks, and tune-ups that make Android more mature and powerful.
The official Google Blog has described Oreo as smarter, faster and more powerful than ever. Android comes with a host of new features and new APIs for app developers. One of the highlights of the new version is the faster boot speed, with Google claiming that the Pixel would boot two times faster on Android Oreo. The update also brings new features like Notification Dots, support for Autofill APIs, Picture in Picture (PiP) mode, adaptive icons, high-fidelity audio playback with new Bluetooth codecs, Google Play Protect and wide-color gamut support across the apps. Let's have a look at some of the new features.
Picture in Picture Mode
Android Oreo will enable you to watch videos and do other tasks at the same time. For example, you can shrink your video to answer an important chat conversation. This can be done by pressing the home button and the active video will shrink into a movable window. Samsung Galaxy users have already experienced this feature, but it will be a native Android feature in Oreo.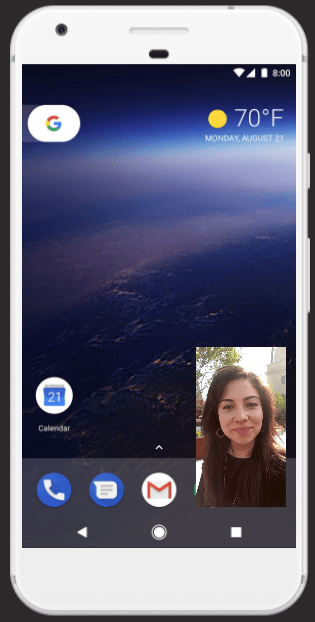 New Notification Channels
Google has introduced a new form of app notification with Oreo. Notification Dots will be seen on the apps with new notification, you can click on it to have a glance of the notification and easily clear them by swiping away. Notification channels will allow developers to create a notification channel for each distinct type of notification that they need to send as well as to reflect choices made by users of the app. You can also snooze notifications to reappear at a later time.
Auto-Fill
Autofill is a feature which we all love. Isn't it?
Have you been using a password manager like LastPass, well you don't need it now. Oreo now includes an Autofill API which integrates seamlessly with apps. It will let you select apps where you want Autofill to work.  WOW!!! Feels like more power in your hand.
Background Limits (Better Battery)
Battery life continues to be a priority for Google in Oreo. Android is getting smarter and it will automatically put background limits to the apps draining your battery based on your usage. It will even send you alerts for the unwanted background tasks. This comes as an enhancement to Android Nougat and will lay emphasis on background services and location updates.
Redesigned Emojis
Android Oreo says goodbye to the blob emojis and replaces them with a redesigned set of emojis which are rounder than blob emojis with more gradients and a generally-different design.
Connectivity
Android O also supports high-quality Bluetooth audio codecs such as the LDAC codec from Sony as well as apt-X support, which is a high-quality Bluetooth codec from Qualcomm. It also includes new Wi-Fi features which will allow two nearby devices to communicate with each other without an internet access. Oreo will extend Android's fingerprint gestures to third-party applications.
What's more in the new Android?
Oreo is two times faster than Android Nougat including the boot time. It also features powerful copy-paste capabilities, enhanced App security with Google Play Protect.
One of the biggest features of Android Oreo is Project Treble and it will change the way Android updates are rolled out. Project Treble will offer software modularization that would help out with fast updates. As of now, only Google's Pixel devices are compatible with Project Treble, but Google plans to make all future devices which will launch with Oreo is "treblized," which means those devices will be easier to upgrade to future Android releases. At least, that's the theory of Project Treble.
Android Oreo Rollout
Google Pixel, Pixel XL, Pixel C, Nexus 5X, Nexus 6P are ready to receive the latest Android updates. The latest version of Google's mobile software will be rolled out as OTA update in a phased manner but if you don't want to wait for an OTA you can download the Android 8.0 Oreo image files.
Other devices which have confirmed the update to Oreo are OnePlus 5, OnePlus 3 & 3T, Lenovo K8 Note, Essential Phone, Micromax Canvas Infinity, HTC U 11, Ultra & 10. and Samsung has also confirmed the update for S8 & S8 Plus. Motorola, LG, and Huawei have also started testing their custom skins for the new platform.
Let us know what you like the most about the new Android OS?