UPDATE: BSNL to soon update minimum download speed at 4Mbps for all Broadband Plans.
The State-owned telecom operator Bharat Sanchar Nigam Ltd. (BSNL) has announced a new Unlimited Broadband plan in India. BSNL Unlimited Broadband plan will cost Rs. 249 only with a data cap of 10GB per day with unlimited voice calling.
Whoa!!
Reliance Jio is really giving all the telecom operators a run for their money. I never thought the internet would be so cheap in India.
What is BSNL Unlimited Broadband Plan?
The new BSNL Unlimited Broadband Plan will give you 10GB data per day and you only have to pay Rs. 249 for it. The data speeds will be limited to 2Mbps only. The plan also includes unlimited calling between 9 PM to 7 AM in the morning and on Sundays, calling will be free through the day as well.
BSNL announced the plan on twitter yesterday.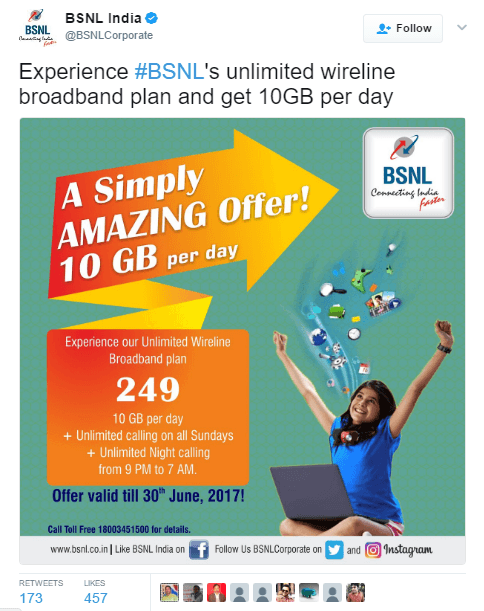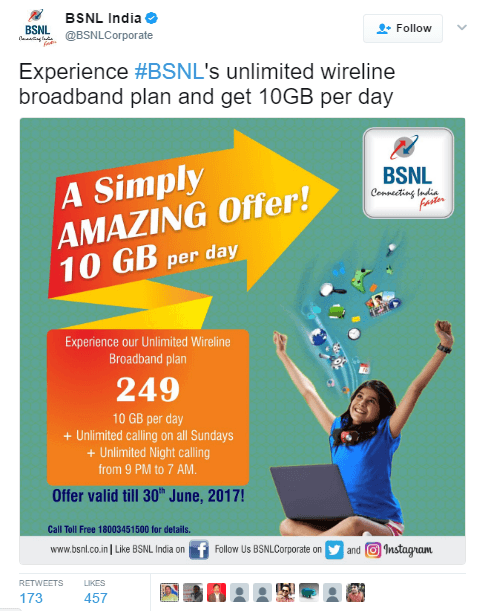 There was no information about the speeds post the FUP of 10GB per day. BSNL is offering 300GB data at Rs. 249 per month which comes down to less than 1 Re. per GB. I remember paying Rs. 250 for 1GB.
For more information, there is a toll-free number – 1800 345 1500.