We all enjoy ordering food from Zomato and Swiggy, right? These two companies transformed the food delivery industry and brought your favourite food from your favourite restaurant right to your doorstep. But on the flip side, these enterprises charge food outlets for showing or recommending their outlet on top or as Bestsellers. It kills the small outlets as the big players have more money to invest in marketing. This is where ONDC (Open Network for Digital Commerce) steps in. What if I tell you that you can save money on Online Food Delivery through ONDC?
Table of Contents
What is ONDC?
The ONDC (Open Network for Digital Commerce) is a private, non-profit organization created by the Government of India's Department for Promotion of Industry and Internal Trade.
Its main objective is to develop open networks for e-commerce, which was established in April 2022. The network includes various small and large-scale e-commerce players and service providers. It is designed to challenge the market dominance of large players in the market like Amazon and Flipkart in India.
Let me help you understand it with an example. Let's suppose you are a restaurant owner and you have listed your menu on Swiggy and Zomato. Now you are restricted to use their services to deliver your orders. On the contrary, ONDC allows you to choose your delivery partner. Let's say Dunzo is operating in your city, then you can use their services to deliver your orders. Or you might want to deliver your orders on your own, the choice is yours. This helps bring down the cost platform cost and benefits the consumers as well as the business owners.
ONDC is already available on popular platforms like Paytm, Magicpin, and Meesho.
ONDC is a government-supported platform that is gradually emerging in the food ordering arena, threatening the dominance of Zomato and Swiggy. However, ONDC is currently available in certain areas but with the inclusion of new players like Magicpin, it started offering groceries and food delivery services and got noticed by the netizens.
If you want to save money on online food delivery, keep reading.
How to order food on ONDC?
There is no dedicated app to order food on ONDC. But you can use its partner apps like Paytm and Magicpin to order food online.
How to order food via Paytm?
Open the Paytm app and click on the 'Search' option.
Search for ONDC using the search option, and you will find various options like ONDC Store, ONDC Food, ONDC Grocery, and a lot more.
Select ONDC Food, and you will see a list of available dishes and restaurants.
Select the food item that you wish to order.
Add the address and make the payment.
How to order food on Magicpin?
Download and open the Magicpin app and select the food option.
Select the food that you wish to order.
Add the address and make the payment to confirm your order.
If you are ready to save money on online food delivery, download Magicpin for Android and iOS and use my Referral code "OCFJ9633" to get extra benefits.
I compared the prices on Swiggy with Magicpin. It turned out the price of Magicpin is relatively lower than that of Swiggy. Check out the screenshot below: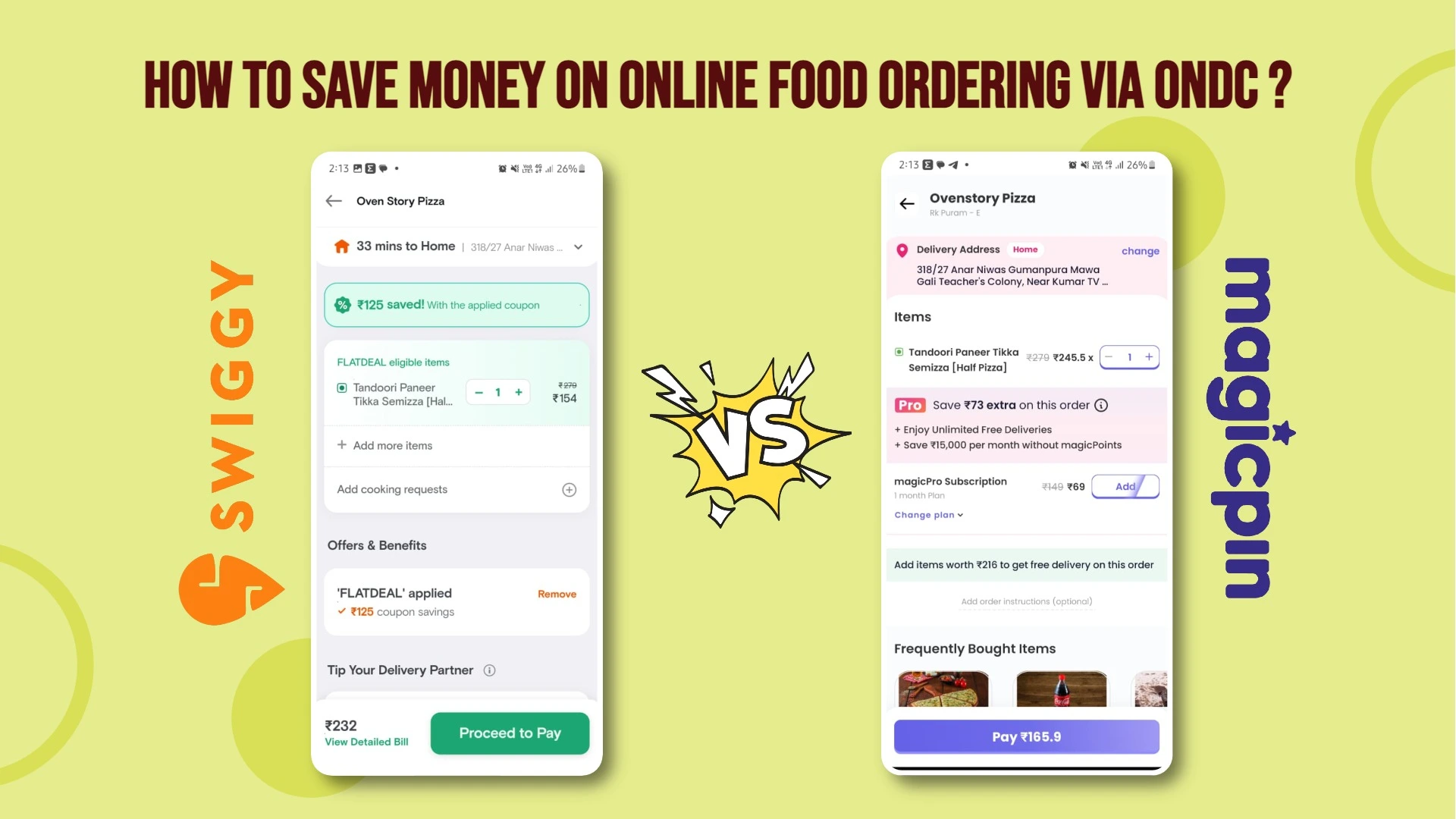 You can see in the screenshot, that Magicpin's price is significantly low than Swiggy's. You can try it yourself and start saving your hard-earned money. Apart from this, you can also save money on store visits by purchasing vouchers from Magicpin. You can also use Magicpin for online shopping from Myntra, Flipkart, and Amazon.
What are your thoughts on the Indian government's ONDC platform?
Have you tried it yet? Let us know in the comments section below.
For more news about upcoming smartphones and popular products, and recommendations follow us on our Facebook, Instagram, and Twitter.
This article may contain affiliate links that Reviewhub's owner or publisher may receive a commission from if you buy a product or service through those links.