Reliance Jio rolls out new 4G tariff plans after reporting a loss of Rs 270.59 crore in its first quarterly financial performance for the period which ended in September.
The new and revised 4G tariff plans are effective from 19th Oct 2017. As expected, Reliance Jio has increased the 4G data tariff in its revised plans. Let us discuss the plans in detail:
Prepaid Plans
Reliance Jio has 9 different prepaid plans to offer with a validity ranging from a week to a year. The telecom operator has revised 4G tariff plans for prepaid customers which starts from Rs 52 for a week with 1.05GB 4G data. The costliest plan will be at Rs 4,999 which gives you a validity of one year with 350GB data with no monthly or daily cap. The monthly packs start from Rs 149 which gives you a 4.2GB 4G data with 0.15GB daily data limit for 28 days.
The famous Rs 399 plan will now give you a validity of 70 days with 70GB data and a daily cap of 1GB and Rs 459 plan will give the same benefits which you were getting for Rs 399 earlier. At Rs 459, you will get a validity of 84 days with 84GB 4G data with a daily cap of 1GB per day.
The Rs 509 plan will give you a validity of 49 days now with 98GB data with a daily cap of 2GB per day. You can get 90 days of validity for Rs 999 with 60GB of 4G data without any daily cap.
Apart from this, there is a Rs 1,999 plan which gives you 180 days validity and 125GB 4G data. Another plan which will cost you Rs 4,999 with 360 days of validity which is almost a full year with 350GB of 4G data without any cap.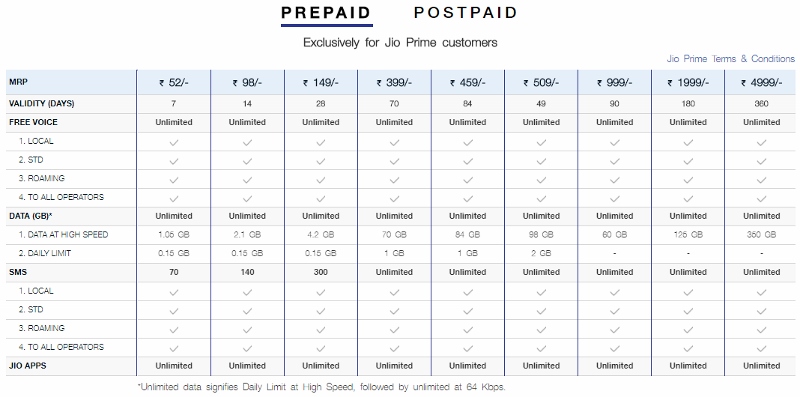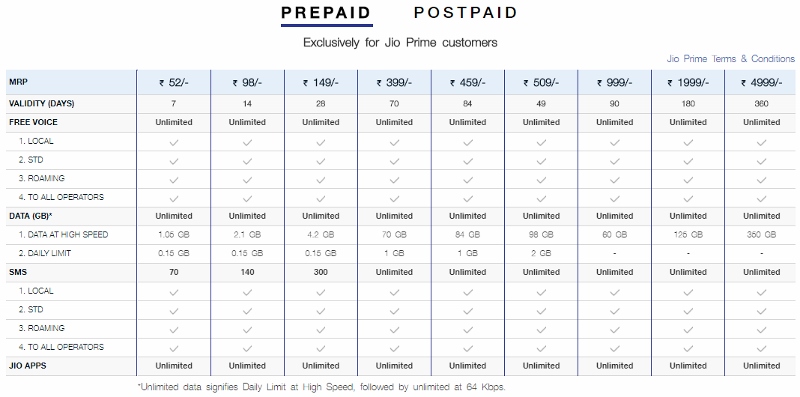 Postpaid Plans
There were two effective plans for Jio Prime Postpaid customers viz. Rs 309 which gave 60GB data per month and Rs 509 which gave 120GB data per month. Now we have a total of 5 different Postpaid plans. The Rs 309 plan now offers 30GB per month with a cap of 1GB per day. If data is not your major concern, Rs 409 plan gives you a total of 20GB 4G data per month with no cap. At Rs 509, you will get 60GB data with a cap of 2GB per day. At Rs 799, the monthly cap is 90GB which gives you a 3GB 4G data per day. There is another plan which offers 60GB 4G data without any daily cap for Rs 999.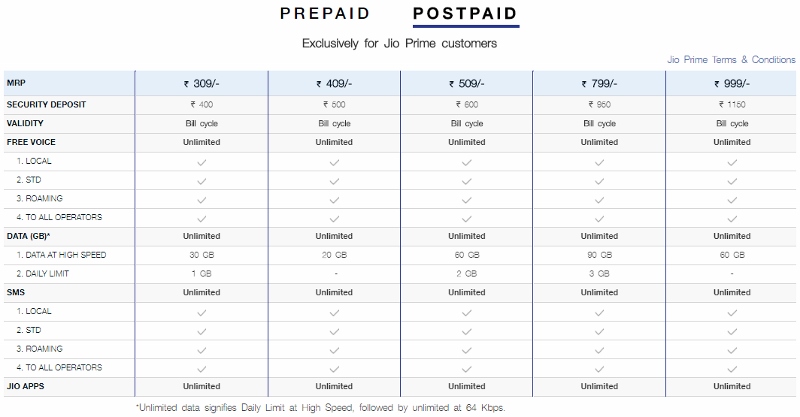 As always Reliance Jio will give up an access to all its applications which comes bundled in the Jio Apps package. Not to forget Reliance Jio does not charge you for calling and that is why we are only concerned with the 4G tariff change. This increase in 4G tariffs by Jio will also give other telecom operators some air to breathe and we expect them to follow soon. Jio also came up with another huge change in the 4G tariff with limiting the after FUP speed to 64kbps and I expect a lot of competitors will try to bank on it.
Also see: How to set up a caller tune on jio?
Reliance Jio was also offering a 100% cashback on recharge before 19th Oct. What do you think of the new plans? have you already recharged your Jio number?
Let us know in the comments below!!