Andy Rubin the father of Android operating system, is all set to unveil his own smartphone. Rubin's recent venture 'Essential' will manufacture high-end Android devices. Andy Rubin 'Essential' smartphone will be launched in competition with iPhone and Google's Pixel smartphones.
Wait!!
For those of you who don't know him, let me tell you who Andy Rubin is.
Who is Andy Rubin?
As I said earlier, Andy Rubin is the father of Android and Google bought it from him in 2005. He worked with the search giant for about eight years developing Android, before leaving the company in 2014 to start a new venture called Playground Global. Playground Global is a tech Hardware Incubator and it has raised a total of $300 million so far from a number of investors, including Google, HP, and Foxconn, which will manufacture the new phone from Essential. In November 2016, he registered 'Essentials Products Inc.' with the US Patent Trademark Office. Among listed goods and services were smartphones, tablets, and computer operating software for mobile phones.
Rubin will serve as CEO of Essential, which will at first have a 40-person team that is made up of former Apple and Google team members. Bloomberg reported that the company is actually working on a number of different hardware devices, for both mobile and smart home markets, with the idea of linking them all together in a single platform.
https://twitter.com/Arubin/status/846396881668210688
Rubin has been teasing the new device since long now and the device is rumored to have an edge to edge display. Rubin introduced Essential's Twitter page in November 2016 and the first tweet appeared on 25th May. The tweet reads "Hi, welcome to our Twitter page. We're here to let you know something big is coming May 30th! Stay tuned…". Rubin will be speaking at the Recode's Code Conference on May 30.
Hi, welcome to our Twitter page. We're here to let you know something big is coming May 30th! Stay tuned…

— Essential (@essential) May 25, 2017
After the first tweet, another one followed the next day which is a picture of its smartphone blacked out with a rounded accessory at the top of the device. If rumors are to be believed, it might be a 360-degree camera unit, but there is no confirmation from the company yet. Reports suggest Rubin is working on a modular smartphone, and users will be able to attach hardware accessories via magnetic pins to add features to the smartphone.
Do we have a competition to Motorola's Z series?
We heard you @renan_batista – here's something to hold you over until next week: pic.twitter.com/QSIeXyjKNq

— Essential (@essential) May 25, 2017
Another leak by a Russian website MobileTelefun.ru claims that the specs of Andy Rubin Essential smartphone have been leaked via Android benchmarking tool GFXBench. The device was spotted by the name "Essential FIH-PM1"— the FIH part indicating that the device would be produced by Foxconn International Holdings, as speculated previously. However, the benchmark was made in December 2016 which was picked up by MobileTelefun.ru.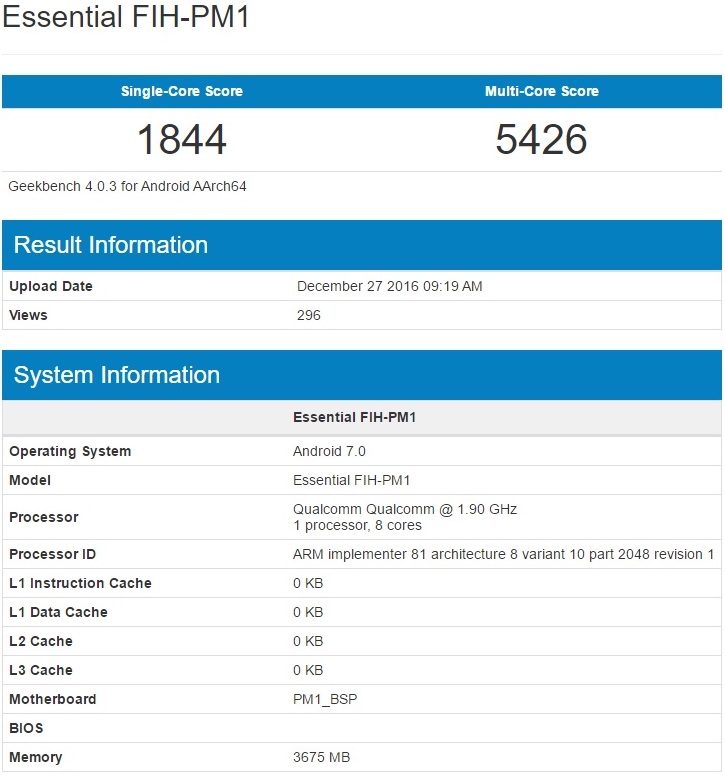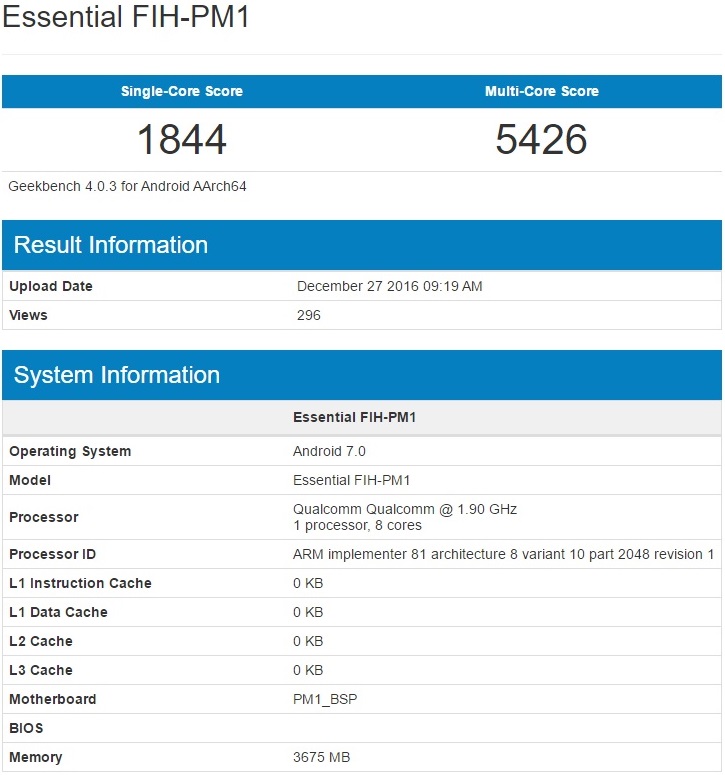 Check out some more results here.
The results suggest that the device would feature a 5.5-inch, 2560 x 1312 resolution display with 80:41 aspect ratio (almost 2:1 like the LG G6), octa-core Snapdragon 835 processor @2.2 GHz with Adreno 540 GPU and 4 GB RAM. The rear camera, meanwhile, is said to come in at 12 MP (and may lack autofocus), while a 7 MP camera is expected at the front (both are said to be capable of shooting in 4K). The Essential phone would also support NFC and run Android 7.0 Nougat out of the box.
What's more, 9to5Google suggests that the device will arrive with some sort of modular functionality thanks to a magnetic connector place on the handset and may house pressure-sensitive functionality similar to Apple's 3D Touch. Although there is no information on the availability of the device.
Tell us what you think in the comments below.