Apple held its most anticipated September event on 12th September Tuesday. The company announced the new iPhone 15 series, Apple Watch 9, Apple Watch Ultra 2 and more.
We will cover all the big announcements Apple made at this event. So, let's get started.
Table of Contents
Apple iPhone 15 Series
Apple has not made any changes in the iPhone lineup closing down on all the rumours of iPhone Ultra. Not much has changed in terms of design, Apple has introduced some new colours and a few aesthetic changes in the new iPhones.
The Biggest change to the iPhone 15 series is the transition of Apple from a Lightning port to a USB Type-C port which came after the order from the European Union.
Another welcome change is Dynamic Island for all iPhones. Apple has neatly integrated the notch with the iOS through Dynamic Island. Earlier, it was only available for the Pro models.
iPhone 15 and 15 Plus
The iPhone 15 is not a major upgrade over the previous year's iPhone 14, but those looking for a better standard iPhone will love it. The iPhone 15 will ship with a better camera system, featuring a 48MP primary sensor, which is a substantial upgrade from the previous year's 12MP. It also inherited the A16 Bionic chipset from the iPhone 14 Pro series. If you are upgrading from previous standard variants, you will love the Dynamic Island on the base models.
On the other hand, the 15 Plus has a larger 6.7-inch display with up to 2000 nits peak brightness. The taller sibling carries similar specifications but houses a large battery as well.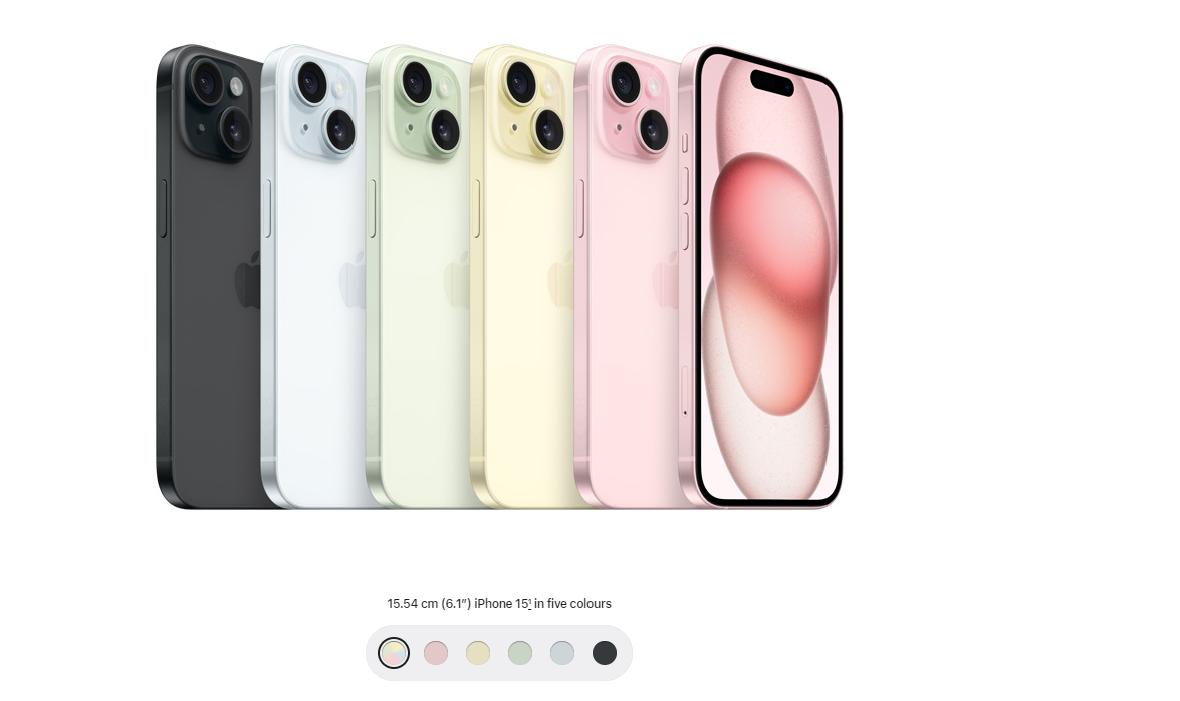 The iPhone 15 series packs a glass back with a matte finish throughout an aerospace-grade aluminium frame. The new iPhone carries the same colour throughout making it look more premium. At the front, there is ceramic shield protection to make the smartphone more durable.
However, it is disappointing to see a 60Hz refresh rate but Apple has justified it by not increasing the price of the new iPhone. Speaking of which, let's check out the pricing of the iPhone 15.
The smartphones will be available in five colours in India – Pink, Yellow, Green, Blue, and Black.
Apple iPhone 15 and 15 Plus Price in India:
The new iPhone will be available starting 22nd September in India. However, you can pre-book them starting today.
iPhone 15 128GB: ₹79900/-
iPhone 15 256GB: ₹89900/-
iPhone 15 512GB: ₹109900/-
iPhone 15 Plus 128GB: ₹89900/-
iPhone 15 Plus 256GB: ₹99900/-
iPhone 15 Plus 512GB: ₹119900/-
iPhone 15 Pro and 15 Pro Max
Turning our attention to the iPhone 15 Pro and 15 Pro Max, the iPhone 15 Pro introduces Apple's latest A17 Pro Bionic chip, which claimed the title of the industry's first 3nm processor. It comes with a 6-core GPU, promising enhanced gaming capabilities. These Pro models were lighter than their predecessors, thanks to their new aerospace-grade titanium build, which promises improved durability. The bezels on both models are slimmer, and Apple replaced the Mute switch with an Action button. It can be mapped to do other tasks like switch to Focus mode, Camera, Flashlight, Voice Memo, Translate, Magnifier, and many more.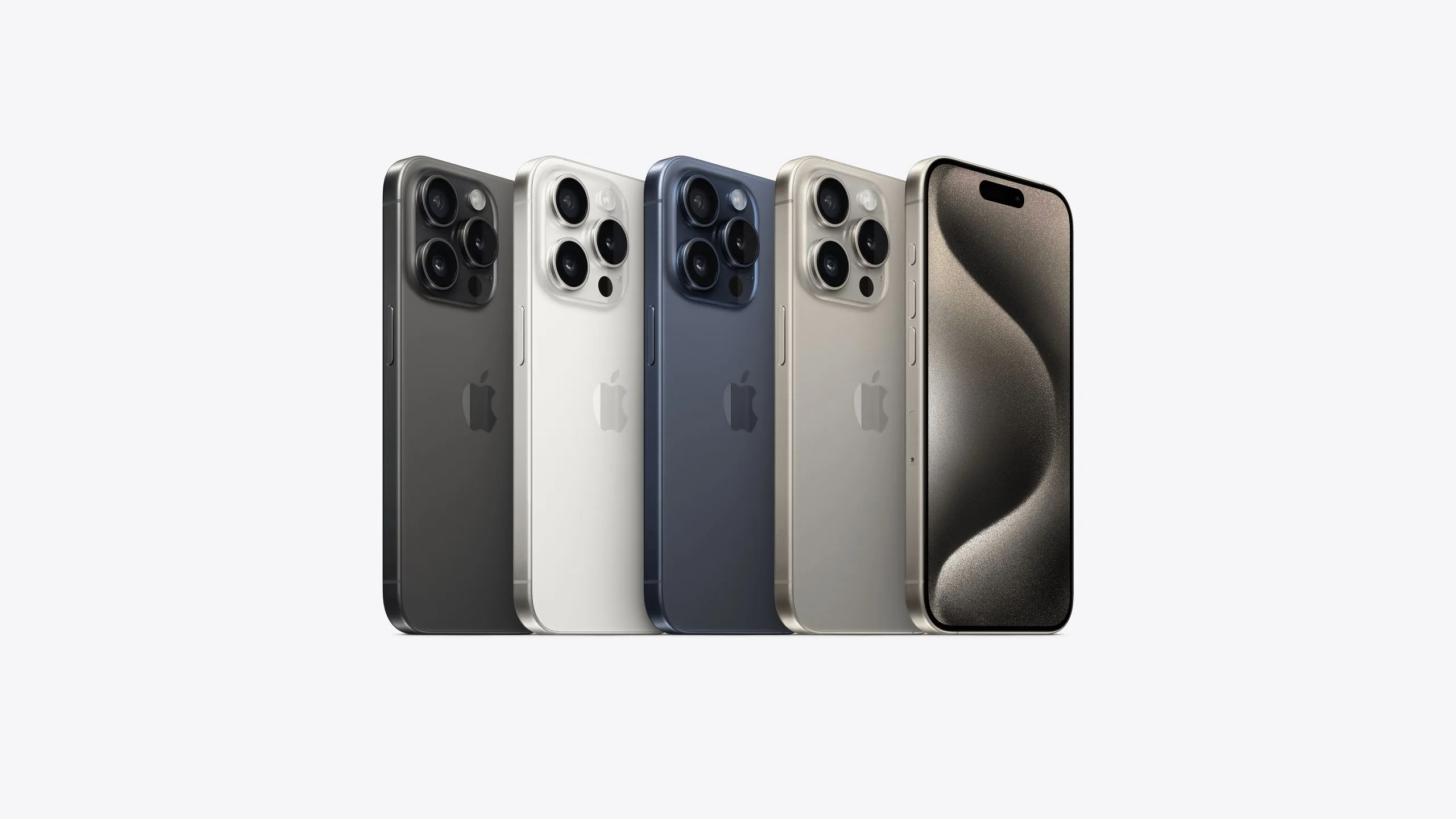 While the camera resolution remained the same, Apple claims enhanced software capabilities. There were rumours of a RAM increase from 6GB to 8GB.
While the iPhone 15 Pro and Pro Max cameras didn't receive a resolution jump, they offer improved software capabilities. The 15 Pro features a 3x 12MP telephoto camera, similar to previous iPhone Pros, while the 15 Pro Max offers a 5x zoom for better portrait photography. The iPhone 15 Pro models introduced the ability to capture 3D Spatial Videos, a feature complementing the upcoming Apple Vision Pro headset.
The battery on the 15 Pro Max may have been bigger than that of the 15 Pro, but Apple didn't officially disclose the details. This resulted in the 15 Pro Max being considerably more expensive at launch, with a price difference of ₹20,000 compared to the previous year's iPhone 14 Pro.
Apple iPhone 15 Pro and 15 Pro Max Price in India:
The starting price in India for the base 256GB storage model of the iPhone 15 Pro Max is ₹1,59,900, while the 1TB model approached the Rs 2 lakh mark.
256GB: ₹1,59,900/-
256GB: ₹1,79,900/-
512GB: ₹1,99,900/-
While the iPhone 15 Pro will come with a base variant of 128GB and is priced at:
128GB: ₹1,34,900/-
256GB: ₹1,44,900/-
512GB: ₹ 1,64,900/-
1TB: ₹1,84,900/-
So, now that you have gone through all that. Let's check out what MKBHD has to say about the new iPhones.
What's new in the iPhone 15 series?
Apple iPhone 15 series marks some iconic changes:
Dynamic Island for all
Apple announced that all variants of the iPhone will ship with Dynamic Island. Apple has smartly utilized the selfie camera cut-out to get the most out of it. The Dynamic Island features a widget that minimizes and pops up alerts and live activities like tracking your next ride, seeing who's calling, checking your flight status and much more.
USB Type-C
Yes, Apple is finally shifting to USB Type-C cable. It comes as a huge relief for consumers across the globe. Apple is including a braided USB Type-C cable in the box but the standard variants will ship with USB 2.0 while the Pro variants will ship with USB 3.0.
However, the change comes after the European Union passed a law requiring universal USB-C charging compatibility by 2024.
The Action Button
Apple killed the mute switch for the Action button which can be mapped to do other tasks like Focus mode, Camera, Flashlight, Voice Memo, Translate, Magnifier, and many more.
Spatial Video
The iPhone 15 Pro and Pro Max users will be able to record spatial video with their smartphone. This announcement is in line with Apple's forthcoming Vision Pro headset.
Apple Watch Ultra 2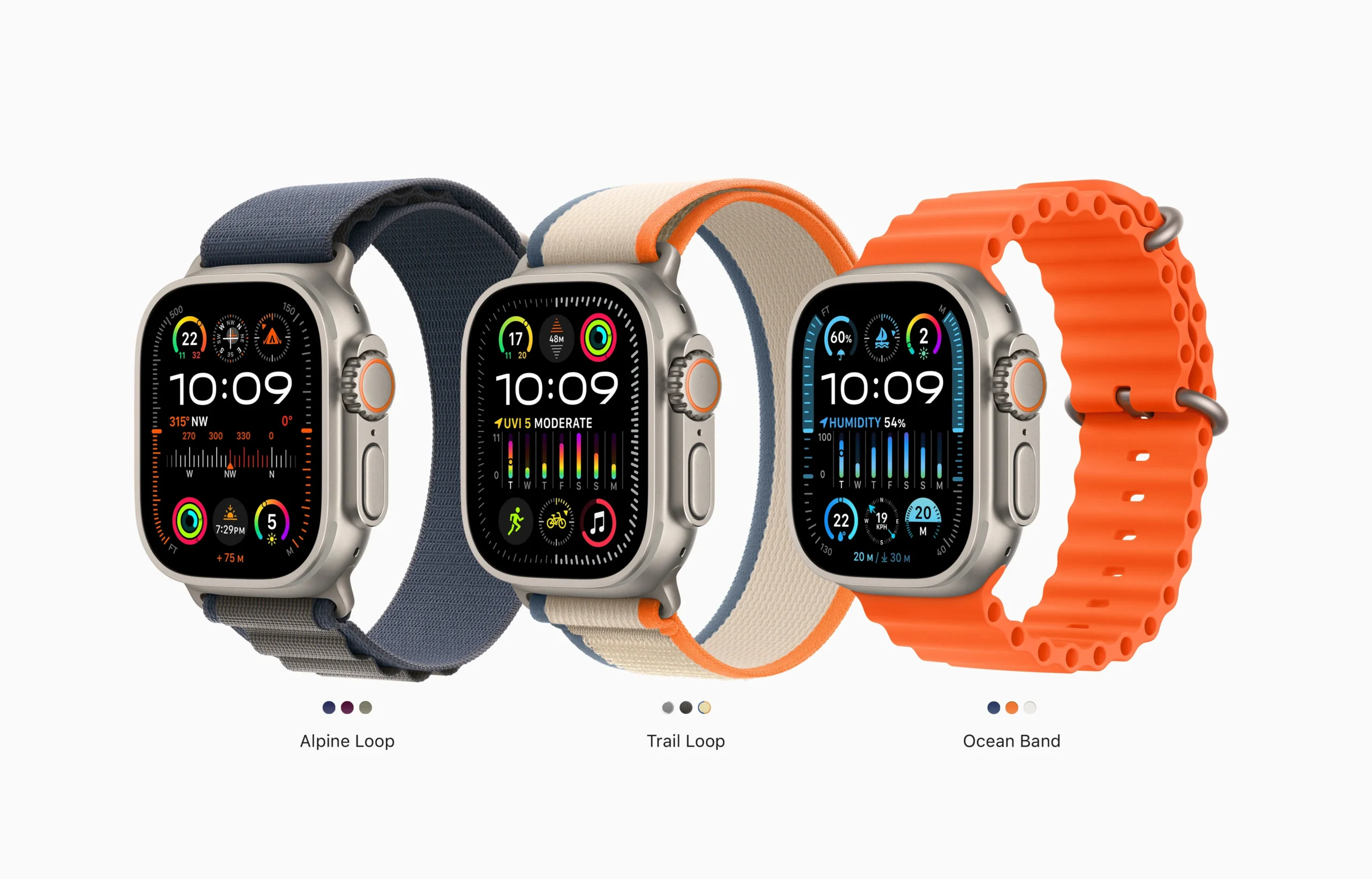 Shifting our focus to the Apple Watch Ultra 2, Apple's inaugural rugged smartwatch received its second generation with several enhancements. The most prominent improvement was the Apple Watch Ultra 2's remarkable ability to achieve a maximum brightness of 3000 nits, making it Apple's brightest product. Both the Apple Watch Ultra 2 and the Apple Watch Series 9 feature a new S9 SiP (system-in-package) and a novel double-tap gesture. This gesture allowed users to answer and end calls, snooze alarms, and execute various functions with a simple double-tap of their thumb and index finger. The Apple Watch Ultra 2 Price in India starts at ₹89,900 for a 49mm model.
Apple Watch Series 9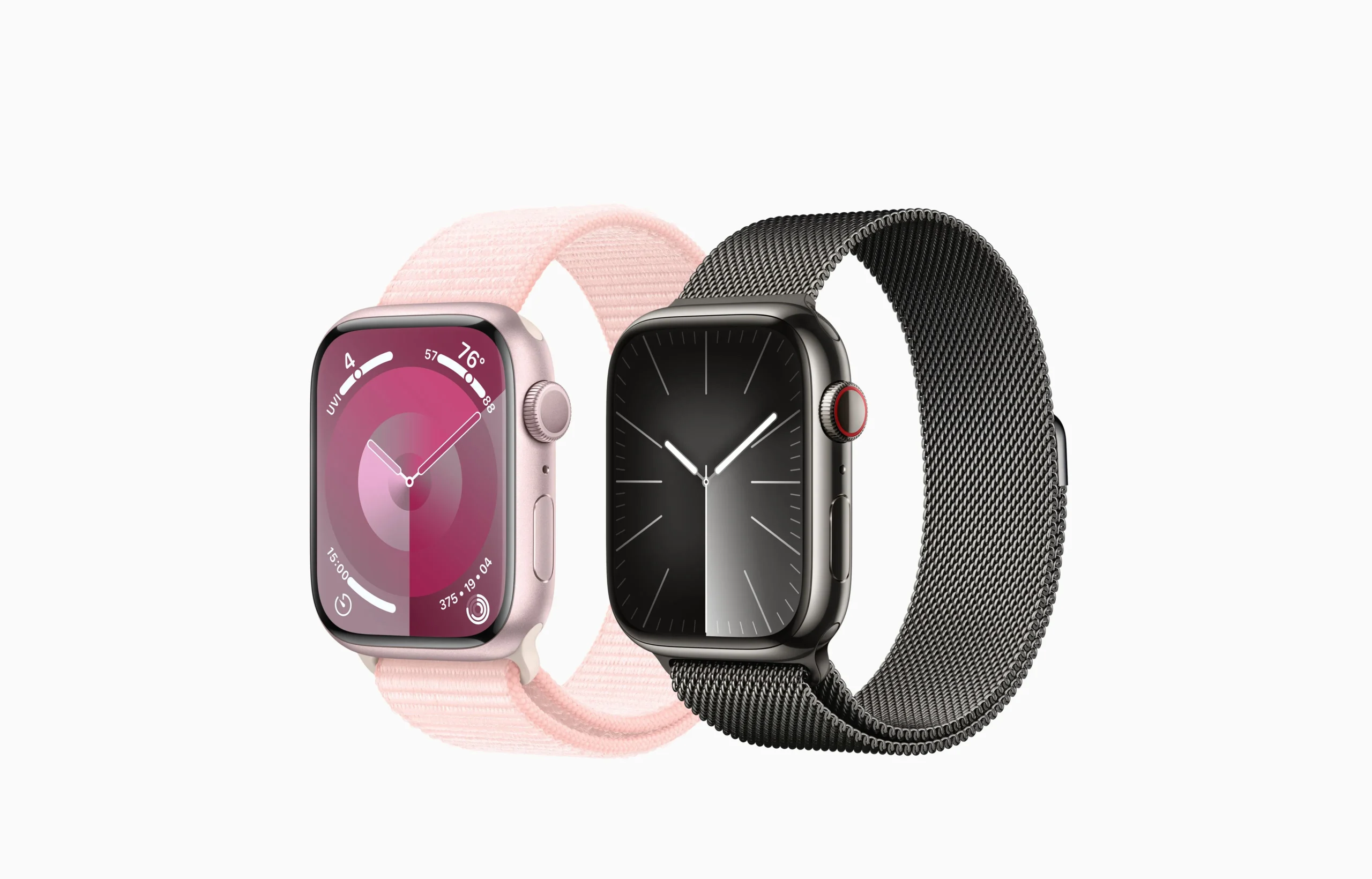 The Apple Watch Series 9 emphasized sustainability, marking Apple's first carbon-neutral product. It featured the same S9 SiP as the Watch Ultra 2 and operated on watchOS 10, offering redesigned watch faces and apps. The double-tap gesture control functionality was also present. Furthermore, Apple introduced a new pink colour option for the Watch Series 9. The Apple Watch Series 9 will start at ₹41,900 in India.
Conclusion
Apple's September event on September 12th featured several significant announcements. The iPhone 15 series was unveiled, including a shift to USB Type-C and the introduction of Dynamic Island across all models. The iPhone 15 and 15 Plus offered camera and performance upgrades, while the Pro models featured the A17 Pro Bionic chip and an Action button for various functions.
Considering the new changes and performance bumps, the iPhone 15 seemed a worthy upgrade for the Apple iPhone 13 owners who will get a performance boost with a new camera, Dynamic Island and USB Type-C port.
The new iPhone will be available on all e-commerce websites like Flipkart and Amazon. It might also get some interesting exchange offers during the upcoming festive sale.
Other noteworthy changes included the adoption of USB Type-C, the replacement of the mute switch with an Action button, and the ability to record spatial videos. The Apple Watch lineup saw the introduction of the Apple Watch Ultra 2 with a high-brightness display and a double-tap gesture, while the Apple Watch Series 9 focused on sustainability and introduced a new colour option.
Overall, Apple's event showcased a range of updates and innovations across its product lineup, focusing on improving user experiences and addressing environmental concerns.
Now that we are done with the Apple Event, we have our eyes glued on the Google Pixel 8 series launch event which is expected in the month of October.
We have come to the end of this article. Do let us know what you think about the new iPhones and Apple Watches in the comment section below.
For more news about upcoming smartphones and popular products, and recommendations follow us on our Facebook, Instagram, and Twitter.
This article may contain affiliate links that Reviewhub's owner or publisher may receive a commission from if you buy a product or service through those links.