The much-rumored Nokia Android Flagship was unveiled yesterday by HMD Global at an event in London. After giving us entry level phones like Nokia 3 & 5 HMD Global finally took the curtains off from its flagship device the Nokia 8. Nokia 8 launched with a Dual Zeiss camera on the rear will be made available by September 2017. However, it is expected to hit the Indian markets in the month of October.
Nokia 8 is the first product by the Finnish company after its collaboration with Carl Zeiss, which was announced last month. Thus, the Highlight of the device will be it Dual camera set-up at the rear which packs two 13MP sensors. The device will be priced at 599 Euros which comes around to be Rs 45,000.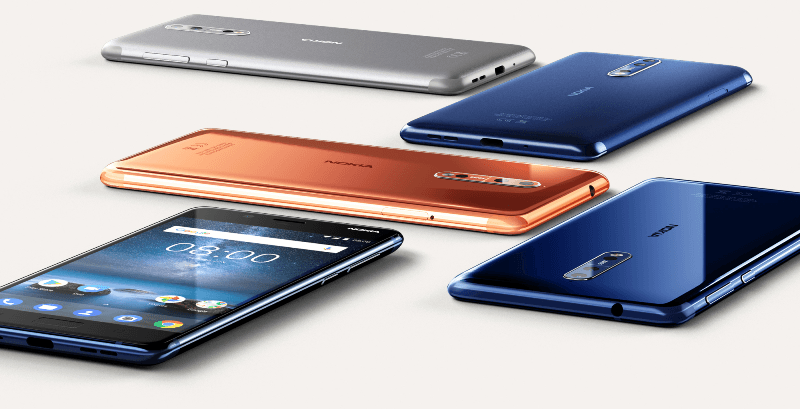 Nokia 8 is built out of 6000-series aluminum and it will be available in glossy Polished Copper and Polished Blue colors, as well as matte Tempered Blue and Steel finishes. The Nokia 8 is IP54 rated, which means it is only splash-proof.
Juho Sarvikas, Chief Product Officer, HMD Global explained that the Nokia 8 launched with an elaborate heat management solution: a copper pipe that runs from the upper right corner of the device to the lower left has liquid evaporating in the middle and condensing on the edges. A graphite shield enables heat transfer to the aluminum unibody and its eventual dissipation to the air.
Nokia 8 launched with Dual Zeiss Cameras
Nokia's partnership with Carl Zeiss brings us a dual 13 MP rear camera setup that combines a color and monochrome sensor, shots from which are combined into a single shot with greater contrast using "Image Fusion Technology". The front camera is 13 MP, and includes auto-focus and actually utilizes the same camera module as the rear configuration. Other camera features include two-tone flash, apertures of f/2.0, and a special mode called "Bothie".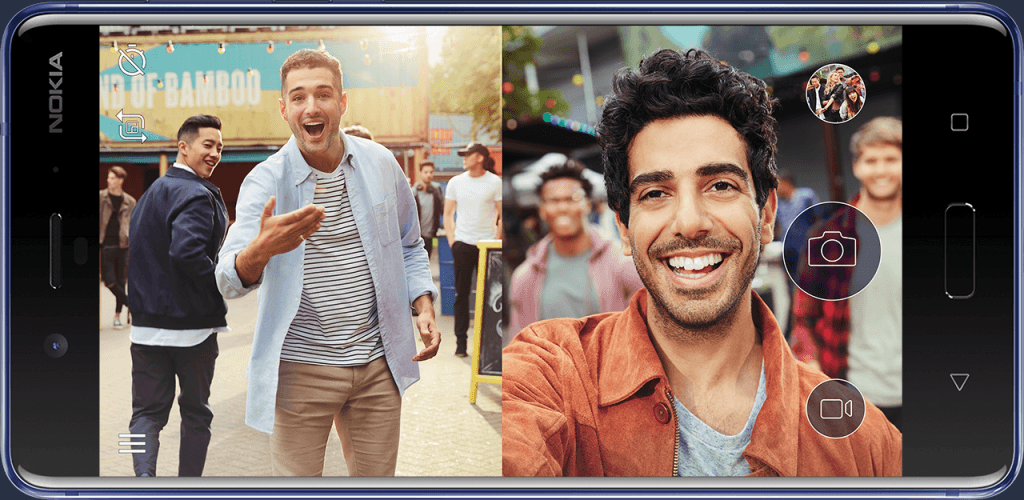 Nokia's Bothie feature allows users to snap photos or record video using footage from both the front and rear cameras, split down the middle 50/50. Whether shooting in this mode or recording regular video, the footage can then be streamed directly to Facebook Live or YouTube natively from the camera app.
Interesting right? It reminds me of LG's square modes.
Another highlight is the Sound recording quality on the device.  It's not just a great camera, the recording mics are also superb with the Nokia 8, thanks to the use of Ozo Audio. This solution previously was found in 360-degree VR cameras used by Hollywood and other professionals and is a first for mobile. WOW!!! The phone uses multiple microphones to capture high dynamic range and record binaural audio, which means that you'll get high-quality stereo sound when you go to share the video with your friends, family, or YouTube/Facebook fans.
Nokia 8's Dual-Sight streaming and Ozo Audio recording features will be available only via the stock Camera app on the phone and won't be opened up to third-party apps. Both front and rear cameras are capable of recording 4K video on their own.
Nokia 8 Specifications
On the specifications part, the Nokia 8 is a powered by a Qualcomm Snapdragon 835 coupled with 4GB of RAM. The device comes with 64GB of internal storage, which can be expanded up to 256GB via a MicroSD card. It comes with a 3090mAh battery which supports Qualcomm Quick Charge.
The Nokia 8 has a 5.3-inch 2K LCD display with Gorilla Glass 5 protection. It features USB 3.1 Type-C connectivity and it does not compromise with a 3.5mm headphone jack. The phone is just 4.6mm thick at the edges, and 7.9mm thick at the height of its camera module.
Nokia 8 Design and Full Specifications
It was rumored that the Nokia 8 might ship with Android O out of the box, and while an HMD Global representative confirmed that the company is in advanced stages of testing Android O build for the Nokia 8, the smartphone will ship with Android 7.1.1 out of the box.
We can expect a quick update to Android O for the Nokia 8 as compared to other flagship devices as Nokia runs on near stock Android. It will also make it easier to roll out the updates.
Have you been waiting about Nokia's Android Flagships? Let us know in the comments below.