OnePlus 5 DxOMark ratings are finally out and with a score of 87, putting it in the same league as the Huawei's P10, Moto Z Force, Sony Xperia XZ and Samsung Galaxy S6 Edge Plus. DxOMark rating is considered the industry standard for camera performance and OnePlus had confirmed that it is collaborating with DxOMark for camera performance of the OnePlus 5.
The OnePlus 5 scored 87 in the DxOMark review, which is undoubtedly a high score in terms of the camera performance. With this score, the device has managed to beat those of some major phones in the market such as the LG V20 and the iPhone 7. However, its score of 87 is still disappointing in a way as it came very close and still falls just short of the scores of Samsung Galaxy S8 and Google Pixel at 88 and 89 respectively. These scores were given by the DxOMark review as well, with the HTC U11 bagging the highest score of 90.
In terms of optics, the OnePlus 5 sports a dual rear camera setup with a 16MP primary sensor and a secondary 20MP telephoto lens equipped sensor that together provides depth of field effects like Bokeh. On the front, it bears a 16MP sensor. The company has used a Sony sensor for their dual camera setup.
In the OnePlus 5 DxOMark review, it is evident that the device offers outstanding color and detail in outdoor conditions. It adds that OnePlus 5's color rendering is "excellent ensuring vivid and pleasant hues with slightly punchier saturation compared to the iPhone 7 and the Samsung S8, and on par with the Google Pixel." OnePlus 5 has also been found to offer accurate white balance with well-preserved details most of the time.
However, the OnePlus 5 was found to struggle in the indoor situation. It is to be noted that low-light exposure in very low-light condition remains useable, but there are noticeable blur and loss of detail. "In sharp low-light images, very fine details are also lost as you'd expect, but aside from blurry handheld shots, low-light detail is impressive on the OnePlus 5. Under bright fluorescent light indoors, noise reduction is excellent, but a buildup of luminance noise is visible in lower light conditions," DxOMark notes in its release.
OnePlus 5 DxOMark reviewer Paul Carroll have also appreciated the camera's autofocus ability featuring hybrid contrast detection, and phase detection autofocus system. It has scored decently in the video recording department, where OnePlus 5 has achieved a good score for target exposure, accurate white balance and color reproduction with minimal loss of detail. OnePlus has been clear to accept that its previous flagship devices have not had an exceptional camera performance. With OnePlus 5, the company has tried hard to change that landscape and with this high DxOMark score, it seems to have achieved the result despite critics complaining about the overall experience.
Below are some stats from the DxOMark: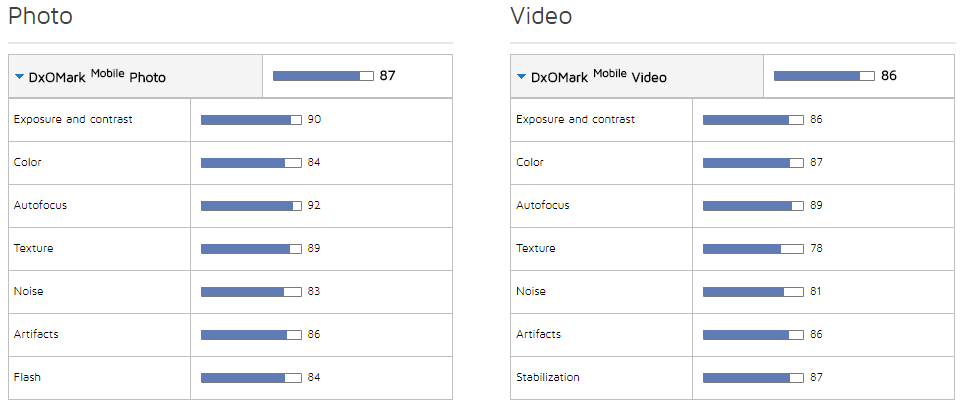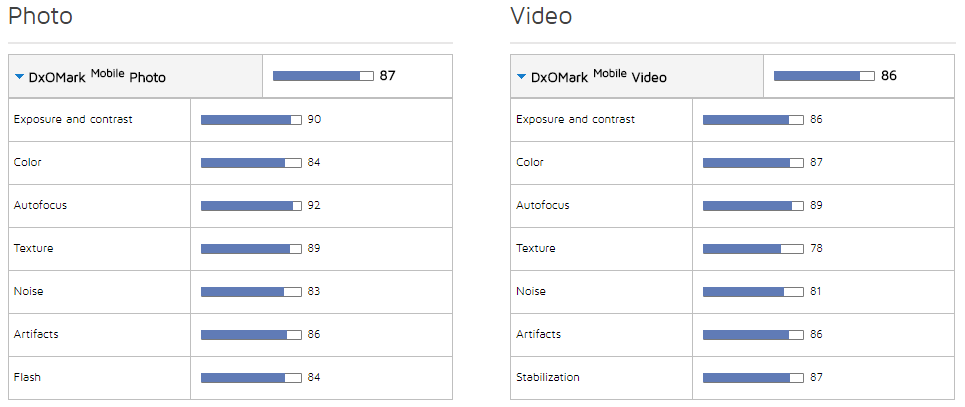 Thus, OnePlus 5 has once again managed to provide a very good package for a much lower price than its competitors.
Let us know what you think in the comments below.