Reliance Jio launches new plans for its prepaid and postpaid subscribers as the Summer Surprise Offer comes to an end. The company has always managed to fulfill our expectations in some or the other way. Although the company has not formally announced yet, the plans have been updated on their website. The company has introduced some new plans and tweaked some previous plans to offer more choices to you.
Jio launches New Plans, check out the prepaid plans below: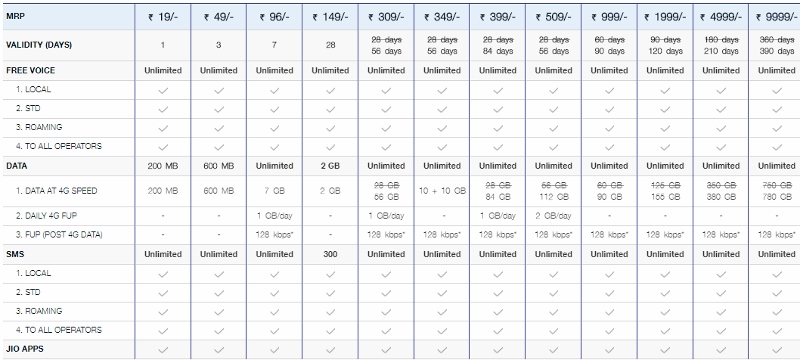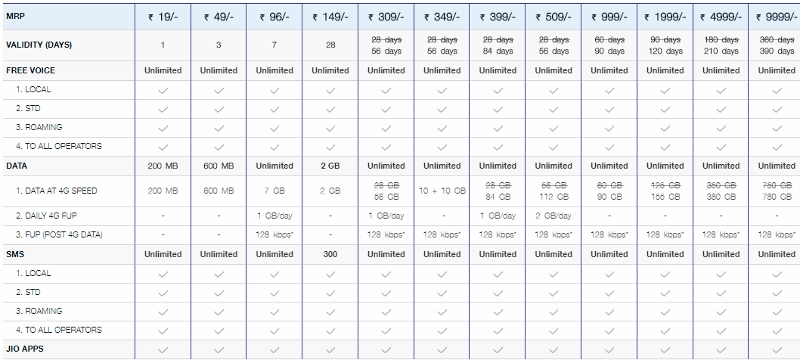 Let's take a look at some of the best-prepaid plans that Jio has to offer.
Rs 149 Plan
The plan offers 2GB's data with a validity of 28 days. Earlier, this Rs. 149 plan offered only 700 Mb of data, which has now increased to 2GB. After you exhaust the data limit, the speed would be reduced to 128 kbps. This plan is ideal for someone who does not use much data but calls a lot.
Free calling, roaming, STD calls, all Jio Apps and unlimited SMSes are included in all the Jio pre-paid plans.
Rs 309 Plan
This is the most popular plan, you will get 1GB 4G data per day for 56 days or 2 billing cycles. Overall, you will get 56GB's of data with a cap of 1GB per day. After you exhaust the data limit, the speed would be reduced to 128 kbps. Jio has essentially doubled the data offering on this plan. The normal 309 plan is valid for 28 days (1 billing cycle), but you are getting the same benefits for 56 days (2 billing cycles).
This is the same plan which was offered in the Jio Dhan Dhana Dhan offer but the validity has been lowered to 56 days (2 billing cycles).
Rs 349 Plan
This is a new plan which offers 20GBs of data over 56 days rather than 1GB per day. This is good for users who do not consume data of daily basis. The plan allows you to use 20GB of Data without any caps for 2 billing cycles. All rest of benefits remain same.
Rs 399 Plan
This is another plan that Jio has introduced. It offers exactly the same benefits as Rs. 309 plan (1GB per day), but it gives you the benefit of 3 billing cycles instead of 2. Overall, you get 84GBs of data with a 1GB cap on daily use.
So the Jio Dhan Dhana Dhan offer is now worth Rs 399.
Rs 509 Plan
This one is for the Heavy Data users. This plan offers 2GBs of 4G data cap per day for 56 days (2 billing cycles). So, you get a total of 112GB.
Postpaid Plans
If you are a postpaid user, you have a total of 5 plans to choose from – 309, 349, 399, 509, 999.
309 plan will give you 2 months validity and 1GB of data per day.
349 plan will give you 20GBs of data without any daily cap for 2 months.
399 plan offers 1GB data daily for a period of 3 months
The 509 plan offers double the data (2GB per day).
The 999 plan offers you 90GBs of data for 2 months without any daily data cap.
Jio Launches new plans; check out the postpaid plans below: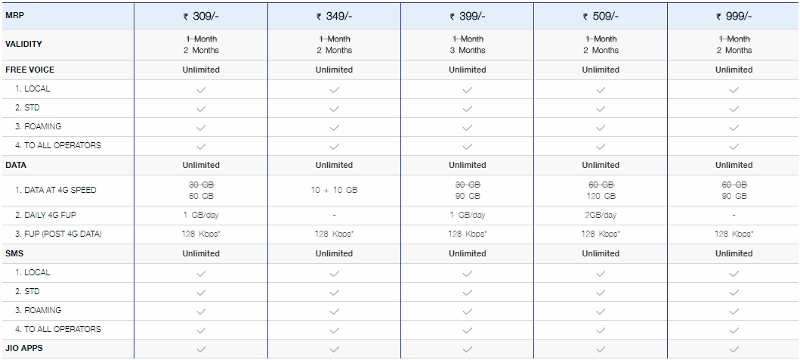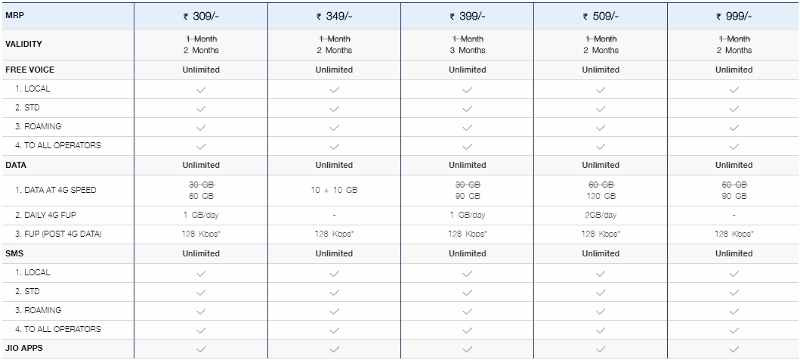 Your comments are always welcome, Tell us what you think about the new plans from Jio and which plans will you opt for?