Mukesh Ambani-led Reliance Jio has launched a JioGST app, which is a mobile first GST starter kit for small businesses to make a smooth transition to GST. The starter kit is priced at Rs 1,999 and contains software and hardware products worth Rs 10,884.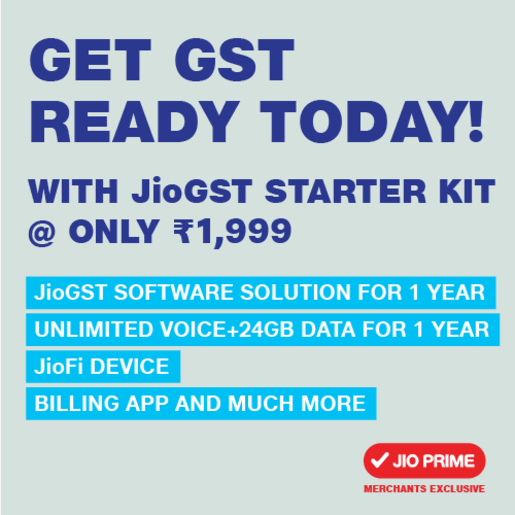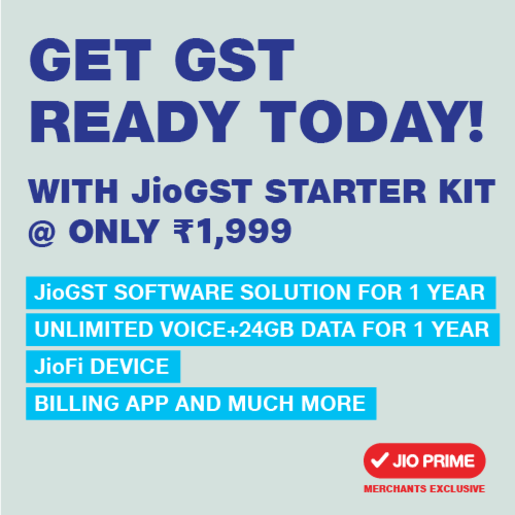 Reliance Jio is one of India's  GST Suvidha Providers (GSP). GSPs have been set-up to enable the taxpayer to comply with the provisions of the GST law through its web platform –the Goods and Services Tax Network. Jio-GST solution will assist retailers to maintain records, file GST returns and to comply with the provisions of GST law.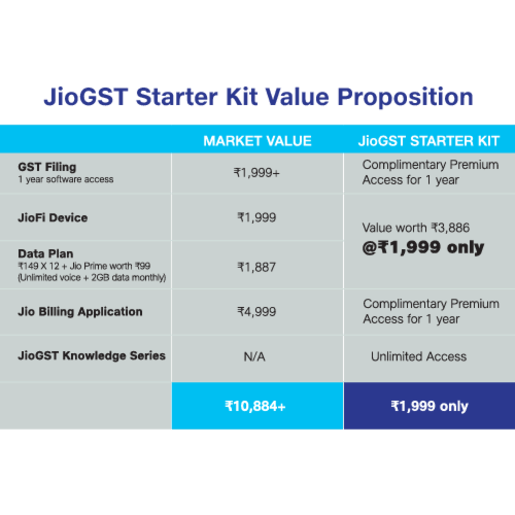 What is included in JioGST Starter Kit?
App Based solution for GST
JioGST App, which is an app-based solution platform for GST, which can help the SMEs to file tax returns under GST. The application is compatible with any billing software, and can instantly make SMEs GST ready. Although, there is no need for any billing software at all. The price of this software is Rs 1999, which is being offered within this starter pack.
Jio Billing App
The starter kit also includes Jio billing application, which can generate summary wise invoices for the small business, which can be used for filing GST returns. The Jio billing app comes powered with tax codes for thousands of products and services. You don't need a printer for the application just scan and sell. With this, entire summary wise billing details can be extracted without using any computer. The actual price of this app is Rs 4999, which has been offered under this starter kit for free for 1 year.
JioFi Device
With this offer, Jio plans to become an essential part of any SME's accounting process. JioGST starter kit will include a JioFi WiFi device, which will provide unlimited voice calling and 24 GB of 4G data for a year. Jio also offers Door-step SIM delivery and activation in select cities.
Empanelled Professionals
The starter kit will provide you an access to thousands of tax professionals and experts, who can help the SMEs to file GST returns. You can even authorize a professional to file your return.
JioGST Knowledge Hub
Reliance Jio has also come up with a massive Knowledge hub for GST which has features like dedicated GST Chat channel on JioChat, access to professional tax experts via emails, regular seminars and events related to Jio and more.
Retailers Association of India (RAI) has already partnered with Reliance Jio for availing services under JioGST App and starter kit for all merchants and traders under their association.
The EMI for purchasing this unique starter kit for GST compliance starts with Rs 95.03/month.
Reliance Jio is looking to take an advantage once again as Government looks to implement GST. Tell us what you think about the initiative by Reliance Jio in the comments below.