The Telecom Regulatory Authority of India (TRAI) ordered Reliance Jio to withdraw its Summer Surprise Offer. TRAI issued an order asking Reliance Jio to end its 3-month complimentary services. Reliance Jio was quick to react and comply with the regulator's advice, but at the same time said that "all customers who have subscribed to JIO SUMMER SURPRISE Offer prior to its discontinuation will remain eligible for the offer." However, the last date to sign-up for Jio Prime is still April 15.
Jio Summer Surprise Offer Withdrawn
What does this actually mean?
The answer is that If you have paid Rs 99 for Jio Prime and have recharged with Rs 303 or higher(according to your choice of plans), then your Summer Surprise Offer will continue(you get 3 more months of free data). Such customers will not have to pay for Jio services till July.
But if you are one of the customers who has not recharged with Rs 303 or higher plans, then you have missed the chance to enroll in Jio Summer Surprise Offer. Thus, after April 15 you will be charged by Reliance Jio for using their services. For more information, click here for Jio Prime Plans.
Below is a press release by Reliance Jio on their website: www.jio.com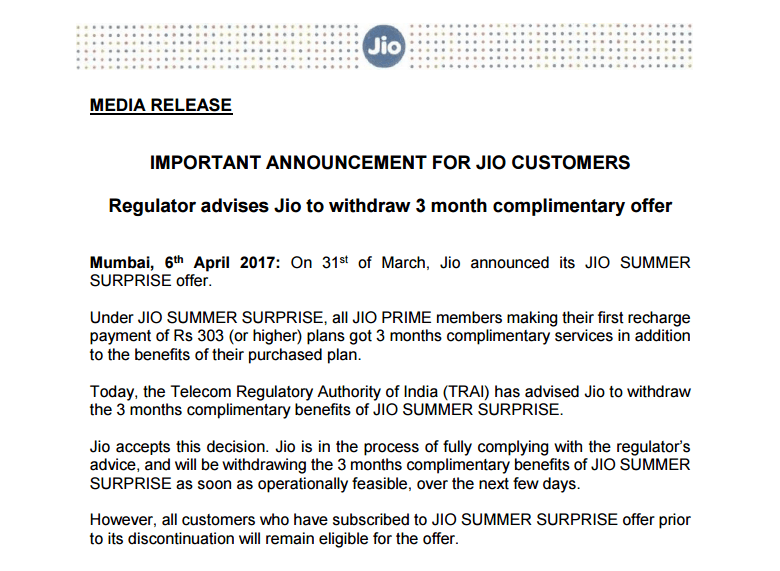 Telecom companies have protested against the free services offered by Reliance Jio since its launch in September when it made voice calls free for a lifetime. Jio also offered free data until the year-end which was later extended to 31 March.
The point here is that after running free for more than seven months, Reliance Jio has finally gone paid.