And they have done it again….
OnePlus Cheating Benchmark Scores for their new flagship device OnePlus 5 to achieve the top of the chart performance. XDA Developers reported benchmark manipulation on newer builds of OxygenOS on the Review Units.
A few months ago,  XDA-Developers discovered that the OnePlus 3 and OnePlus 3T had been programmed to cheat in benchmark apps in order to maximize their scores. Essentially, the CPU in these devices remained at 1.29 GHz for the big cores and 0.98 GHz for the small ones, and this minimum frequency reduced the number of step frequencies, resulting in lower variance. The result was a slightly better performance in benchmarks, but the publication concluded that it was due to the sudden merge of the OxygenOS and Hydrogen OS development teams. OnePlus issued a statement then, promising that these mechanisms will not be present in future OxygenOS builds.
OnePlus 5 initial benchmark leaks created a buzz when it showed outperforming popular phones like Samsung Galaxy S8 Plus and Pixel XL.
XDA-Developers received its review unit ten days ago and has learned that it contains a blatant cheating mechanism that maximizes performance within benchmark apps. It states that other review units are likely to be affected and warns potential buyers that benchmark results reported by other online publications are probably based on misleading data.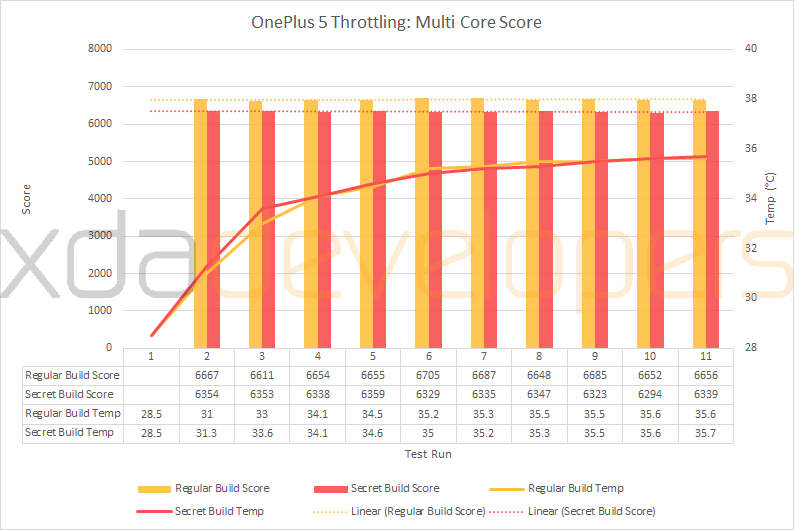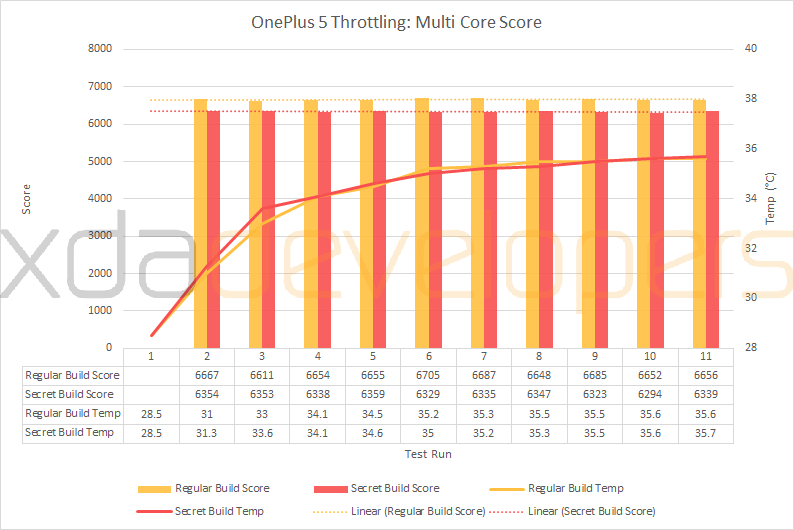 OnePlus has focussed on manipulating the Multicore Benchmarks this time. OnePlus Cheating Benchmarks will be effective on the below-listed applications:
AnTuTu (com.antutu.benchmark.full)
Androbench (com.andromeda.androbench2)
Geekbench 4 (com.primatelabs.geekbench)
GFXBench (com.glbenchmark.glbenchmark27)
Quadrant (com.aurorasoftworks.quadrant.ui.standard)
Nenamark 2 (se.nena.nenamark2)
Vellamo (com.quicinc.vellamo)
These are the same applications which were targeted earlier and OnePlus is clearly targeting them again. "We were able to spoof the benchmark cheating and evade it with GeekBench 4, similarly to our testing in our last report. We found that while running GeekBench 4 from the Play Store, the device scored over 6,700 in multi-core, while we never obtained a score of 6,500 once the device behaves as expected with our hidden build of GeekBench," reported XDA Developers.
OnePlus rolled out an official statement on this which is as follows:
People use benchmark apps in order to ascertain the performance of their device, and we want users to see the true performance of the OnePlus 5. Therefore, we have allowed benchmark apps to run in a state similar to daily usage, including the running of resource intensive apps and games. Additionally, when launching apps the OnePlus 5 runs at a similar state in order to increase the speed in which apps open. We are not overclocking the device, rather we are displaying the performance potential of the OnePlus 5.
The statement comes in as a shock as the device will not run the same way for the other apps which are not targetted for such boosts. If OnePlus is really trying to mislead their consumers by cheating on benchmarks that won't help them for long.
While we believe that there was no need to do this because OnePlus 5 really makes for a great device.