Reliance Jio has extended its cashback offer, the company is now offering up to 200% Cashback on recharges starting from Rs 399 on select wallets. You can get a cashback worth Rs 799.

Mobikwik wallet users will get a full cashback by using coupon code JIOFULL along with 8 Jio vouchers worth Rs 50 each. You can use these Jio vouchers to recharge or to get an add-on pack for your Jio number. However, you can only use one voucher at a time. Reliance Jio has also partnered with digital leading wallets to offer instant cashback on recharge.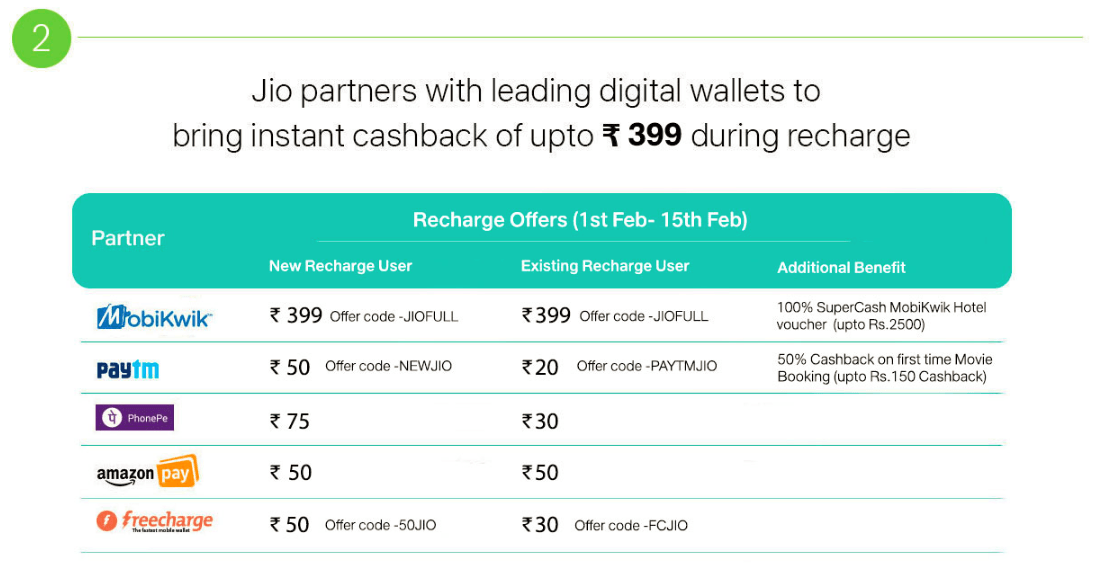 Above is the list of all digital wallets Jio has partnered with most of the offers are available for the first time users. If you use a Mobikwik wallet, your total cashback is worth Rs 700 which amounts to 200% cashback.
Reliance Jio launched a similar campaign which gave up to 100% cashback to users who recharge before 31st January, this seems to be an extension to the same plan with double benefits.
Reliance Jio recently revised its 1GB daily data plans to give 1.5GB Data daily with the most affordable plans starting at Rs 98. Jio has also revamped the 1.5GB daily data plans to give 2GB data per day along with some long-term plans as well as 4GB, 5GB daily data plans. Here is a list of Jio's Recharge offers.
Sachet Packs
Reliance Jio has introduced Sachet recharges aimed at specific data requirements in case you are out of your daily high-speed data limits. Rs 19 recharge would give you 0.15GB data for 1 day and Rs 52 plan will give you 1.05GB data for 7 days.
Reliance Jio's Most Affordable Plans
The most affordable Plan by Reliance Jio is worth Rs 98 and gives you free calling and 2GB data for 28 days. It must be noted that the plan gives a total of 2GB data and 2GB per day.
Reliance Jio's 1.5GB/Day Plan
As discussed earlier, Jio has modified all its 1GB/day data plans to give 1.5GB/day data benefits to the subscribers. There are a total of 4 plans offering 1.5GB data/day out of which Rs 149 plan is the most affordable one. Rs 149 plan has a validity of 28 days and offers a total of 42GB data. Then comes Rs 349 plan which gives users a total of 105GB data with the validity of 70 days. The third plan costs Rs 399, which gives a total of 126GB data and the validity of 84 days. Last in, is the Rs 499 plan which offers a total of 136GB data for 91 days. Please note that all plans have a FUP (Fair Usage Policy) of 1.5GB/day.
Reliance Jio's 2GB/Day Plan
Reliance Jio's Rs 198 and Rs 398 plan gives a total of 56GB and 140GB data respectively with a validity of 28 days and 70 days respectively. The Rs 448 plan is valid for 84 days and offers data 168GB of data while Rs 498 plan offers  182GB data for 91 days. The FUP for these plans is 2GB per day.

Reliance Jio's 3GB/day, 4GB/day, 5GB/day Plans
All these plans come with a validity of 28 days and to name them the Rs 299 recharge gives you a total of 84GB data at 3GB/day, Rs 509 recharge gives you 112GB data at 4GB/day and Rs 799 recharge gives you 140GB data at 5GB/day.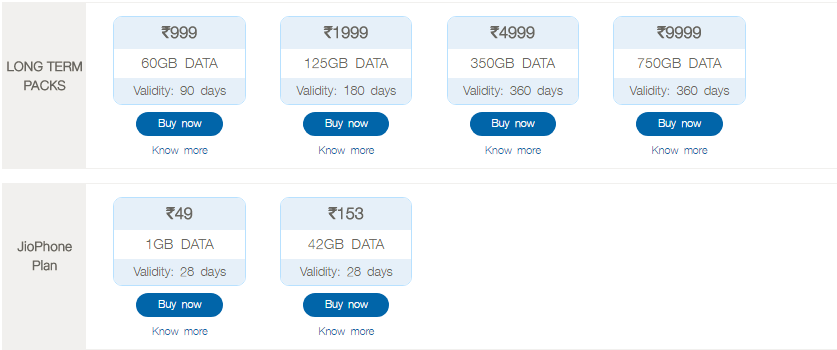 Reliance Jio Long-Term Packs with up to 200% cashback
Reliance Jio is aiming at retaining customers with Long-Term recharge packs. Jio has announced 4 Long-Term packs with a validity ranging from 90 to 360 days and these plans do not have any Fair Usage Policy.
Rs 999 pack will give you a total of 60GB data for 90 days.
Rs 1,999 pack gives you a total of 125GB data with a validity of 180 days.
Rs 4,999 pack will give you 350GB data which is valid for 360 days.
Lastly, Rs 9999 pack gives you 750GB data for 360 days.
With no FUP and longer validity duration, these plans are perfect for people who are using Reliance Jio as their primary SIM. All the above-mentioned recharge can also earn you up to 200% cashback.
[AMAZONPRODUCTS asin="B075P7BLV5″]
Reliance JioPhone Plans
Reliance Jio has announced an exclusive plan for JioPhone users. JioPhone users will get Free voice calls along with 1GB data for 28 days. The Rs 153 plan was revised earlier to give 1GB data per day instead of 500MB data previously which means users will now get a total of 28GB data for 28 days.
It might be noted that the 200% cashback offer is valid till 15th Feb 2018. Jio vouchers are credited immediately and could be found in the My Jio app. These offers are exclusive to Jio Prime members