Vodafone seems to follow Airtel's footsteps by revising the Vodafone Red Postpaid Plans to match Airtel's myPlan. Vodafone also announced the Data rollover scheme similar to Airtel under which your unused data will be carried forward to the next billing cycle.
Vodafone India has launched 3 new categories of the postpaid plans under Vodafone Red. Vodafone is offering a free Netflix subscription, free access to latest movies and live TV with Vodafone Play, free Magzter subscription and free subscription of Red Shield for handset protection from theft or damage. The new Vodafone Red Postpaid Plans has been categorized as follows:
Red Traveler
Red International
Red Signature
Let's discuss the plans further:
Vodafone Red Traveler Plans
The Vodafone Red Traveler Plans offers unlimited Local, STD, and national roaming calls with 100 SMS for the entire billing cycle. You also get free subscription to Vodafone Play, Magzter and Vodafone Red Shield.
The Traveler plans include Rs 499 plan which gives you 20GB Data, the Rs 699 plans gives you 35GB Data and Rs 999 plan offers 50GB data per billing cycle. You will also get a free Netflix subscription with Rs 999 Red Plan. All the plans give you a data rollover of up to 200GB.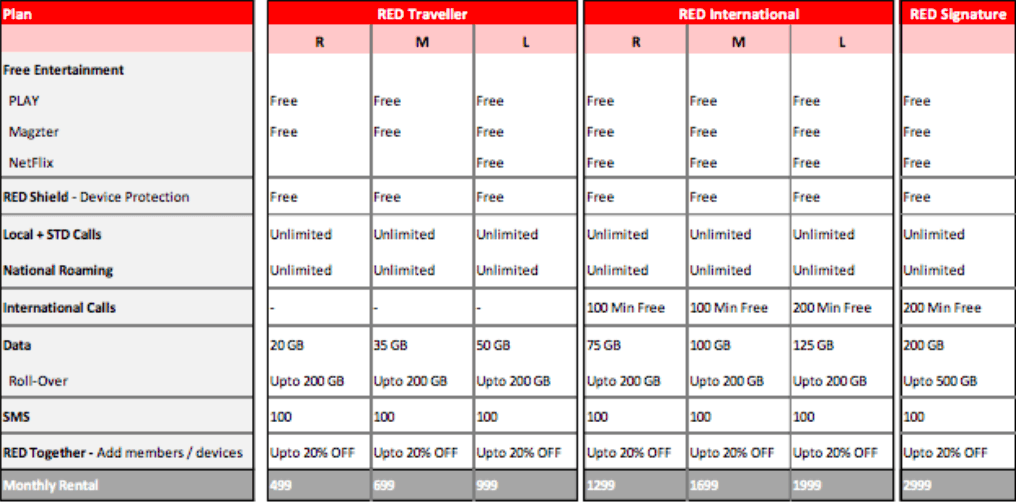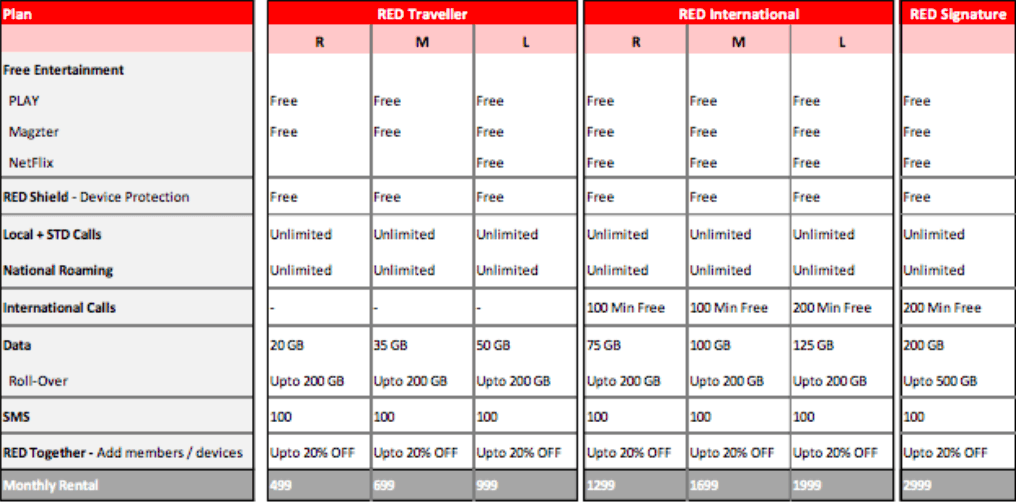 Vodafone Red International Plans
As the name suggests Vodafone Red International Plans are meant for international travelers. It includes 3 plans which costs you Rs 1,299 which gives you 75GB data, Rs 1,699 gives you 100GB data and Rs 1,999 gives you 125GB of Data per billing cycle. The Rs 1,299 and Rs 1,699 plans will give you 100 international minutes while the Rs 1,999 plan gives you 200 minutes of international minutes. The International minutes are valid for USA, Canada, China, Hong Kong, Thailand, Malaysia and Singapore.
Apart from the International minutes, these plans also offer unlimited local and national calling, Free Netflix subscription, Vodafone Play and Magzter subscription along with 100 SMS per billing cycle. The data rollover cap remains at up to 200GB for these plans as well.
Vodafone Red Signature Plan
The Rs 2,999 is the supreme plan which gives you 200GB data with a data rollover of up to 500GB. It also gives you 200 minutes free international calls with free unlimited calls. Other benefits include Free subscription of Netflix, Vodafone Play, Magzter and Red Shield to protect your device from theft and damage.
Vodafone also unveiled Red Together scheme under which customers can avail up to 20% discount by adding their family members to the plan. With the launch of Data rollover scheme Vodafone claims that these are the Best postpaid plans in the market. Although, it must be noted that the Red Shield is only available in selected states.
Tell us which plan you like the most and which Telecom company offers better Postpaid Plans?
Do let us know in the comments below!!