Facebook-owned WhatsApp messenger has seen quite a few updates over the past few months. This time WhatsApp gets a major update as a new Status feature. Now your status updates can include pictures, videos, and GIFs rather than boring texts. Like Stories on Snapchat, they'll also last for just 24 hours.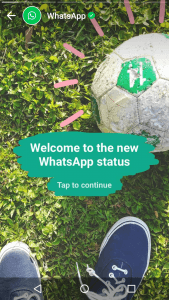 As a user, you'll be able to watch the Status updates posted by friends, reply to them privately and share your own posts. Similar to WhatsApp's text conversations, status updates will be encrypted by default. People in your contacts will be able to see your status updates, though you can select who can and can't see them. You can also send a message to individuals with WhatsApp's broadcast feature, which sends the same message to several individual conversations.
The feature looks a lot like Instagram Stories, which is highly inspired by Snapchat Stories. WhatsApp status updates mimic the bars at the top of the screen from Instagram Stories, which show how much time is left in the story.
You will no see a separate 'Status' tab along with 'Calls' and 'Chats', ditching the contacts tab. There is a camera icon at the left most corner which will enable you to quickly capture an image or record a video. You will also see a message button at the bottom which will bring up all your contact list.