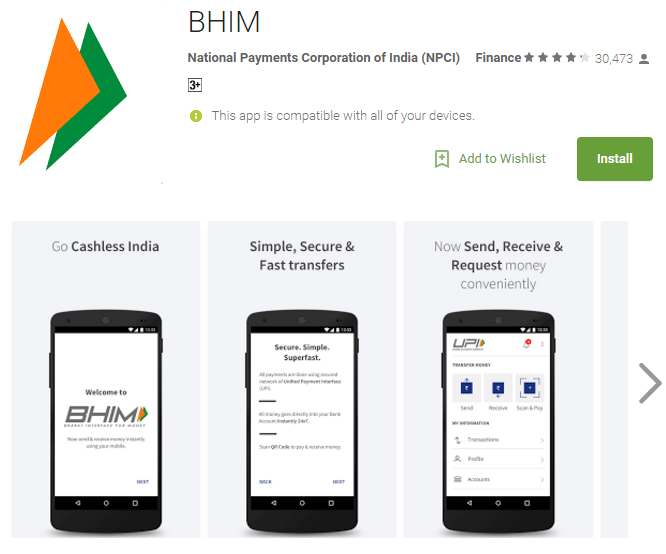 Prime Minister Narendra Modi yesterday launched a brand new mobile application for the Unified Payments Interface(UPI), called Bharat Interface for Money(BHIM). PM encouraged citizens to use digital modes of transaction. He also said, that a biometric payment system based on the Aadhaar platform would be launched soon. Speaking at the DigiDhan Mela Friday, Modi said that for this platform, one wouldn't need a mobile phone or Internet connectivity, but only the thumbprint. He said that there was a time when people used to address and illiterate person as "angootha-chaap", but now the thumbprint can act as a person's bank, his identity and can even run the business. BHIM – Bharat Interface for Money – is named after Dr. BR Ambedkar, said the PM, and is positioned to play a big role in the government's push for digital transactions.
BHIM allows customers to transact electronically without having to use a credit or debit card, or by creating and storing a mobile wallet.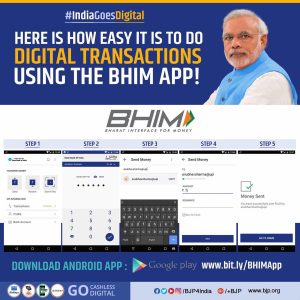 What is BHIM app, How to use it?
Here is your guide to BHIM:
The app allows you to easily transfer money or make a payment from your bank account using only your phone number. If the shopkeeper uses the BHIM app too, just open the app, choose "send money", and type in the amount and the merchant's phone number to make the payment. The money will be debited from your account, and credited to the merchant's bank account which is linked to the BHIM app.
BHIM is now available as an Android version download now, and iOS is coming soon.
The app also allows you to scan a QR code. The merchant can generate his QR code through the BHIM app. To pay him, you'd need to tap the Scan and Pay button in the app, and then scan the QR code.
BHIM can be used to make payments without a smartphone through USSD. You need to dial *99# from any kind of mobile phone, and this will show a menu – by typing in different numbers you can choose to send money, check your balance, or see transaction history.
To send money, for example, you'd type '1' and hit send, then type '1' again to select mobile number. Next, you'd type in the number and the amount, and then a PIN that can be generated using BHIM. This will work on any phone – even Rs. 1,000 feature phones – without an Internet connection.
Shopkeepers can use the BHIM app and receive money from a smartphone. If the customer has linked a bank account and his/her Aadhaar ID, then the merchant can use Aadhaar Pay, an app that was soft-launched days ago. For this, the merchant has to have a smartphone and a Rs. 2,000 fingerprint reader. This is currently being distributed free in Aadhaar Payments pilot projects around the country.
On the shopkeeper's phone, the customer types in her Aadhaar number and chooses her bank. Then, the shopkeeper uses the fingerprint reader for instant confirmation to complete the payment. The customer doesn't need to carry his/her Aadhar card or use a phone, only the merchant needs these.
With a mobile wallet app, you have to load money in the wallet before you can use it. With BHIM and all UPI (United Payments Interface) apps, you can directly connect your phone to your bank account – like a debit card. Payments are happening directly from and to bank accounts, so merchants don't have to worry about transferring wallet earnings to the bank either.
There is a Rs. 10,000 per transaction limit, and Rs. 20,000 per day for BHIM.
All UPI-connected banks accept BHIM – this includes all major Indian banks including SBI, ICICI, Axis, and HDFC. Even banks not connected to UPI can receive money through BHIM through IFSC, an 11-digit code assigned to every bank branch by the Reserve Bank of India.
Download BHIM app for Android Here.
Watch the video below for a Tutorial.