Reliance Jio's Happy New Year offer will end on 31st March. To stay in game Reliance Jio came up another offer called the Reliance Jio Prime Membership. Reliance Jio's Prime Membership is now officially available for customers and users can sign up for the service by paying a one-time amount of Rs. 99 per year. Reliance Jio unveiled the Jio Prime Plans for Prepaid and Postpaid users.
What is Reliance Jio Prime Membership?
Click here to read the full article.
Reliance Jio Prime Plans
Reliance Jio Prime Membership is an extension of its Happy New Year offer which ends on March 31. But it will come for a price now. Rs. 99 is a one-time membership fee for one year. This membership gives the users extra benefits over the regular plans.
Reliance Jio is only charging you for 4G data while the calling service remains free. Jio Prime Plans start at Rs 19 and go up to Rs 999 for prepaid users. Obviously the more you pay, the more data you're going to get in these packs. There are postpaid packs as well which start at Rs 303 and go up to Rs 999.
The prepaid plans starting from Rs. 19 gives you one day validity with unlimited voice calls and 200MB of 4G data. Similarly, Rs. 49 plan gives you a validity of 3 days and 600MB of 4G data, Rs. 96 recharge is valid for 7 days and will give you 1GB of 4G data every day. There is another recharge of Rs. 149 which is valid for 28 days, gives you unlimited calling and a 2GB of 4G data for 28 days with no caps.
The Jio Prime Plans for postpaid users start from Rs. 303 and go up to Rs. 999. We will be comparing prepaid and postpaid plans here as the postpaid users will have an edge over the prepaid users.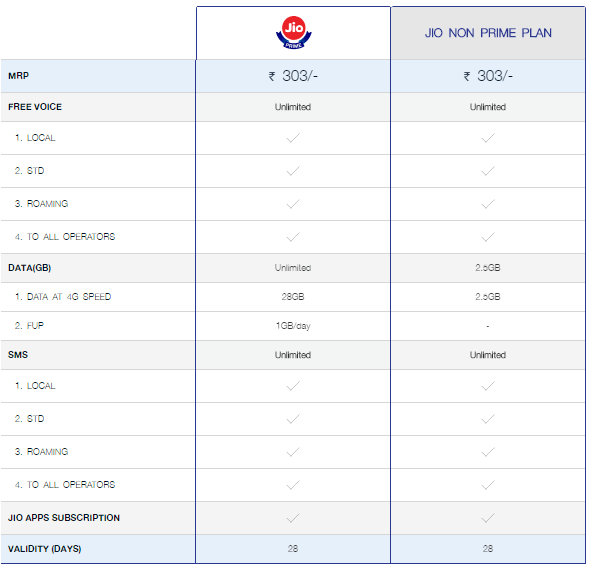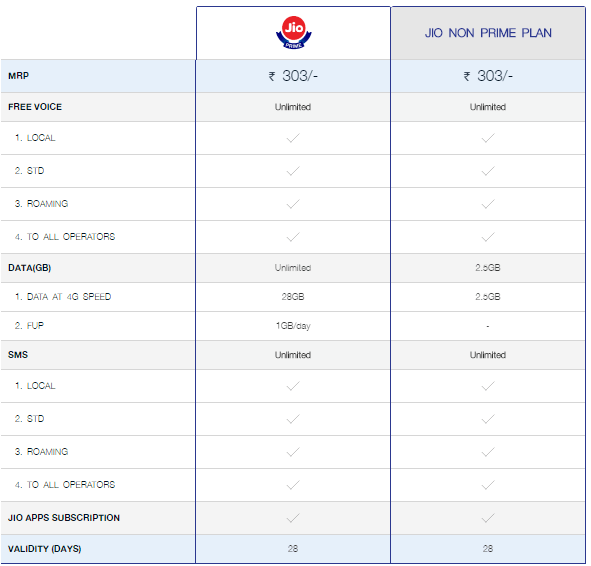 The above Rs. 303 plan has a validity of 28 days for prepaid users and thus gives 28GB of 4G data with a cap of 1GB data usage per day. While the postpaid users have a billing cycle of 30 days and thus get 30GB of 4G data with FUP of 1GB per day. This a mere extension of what the users were getting in the Happy New Year offer. You can also see Non-Prime Plans in the snapshot above.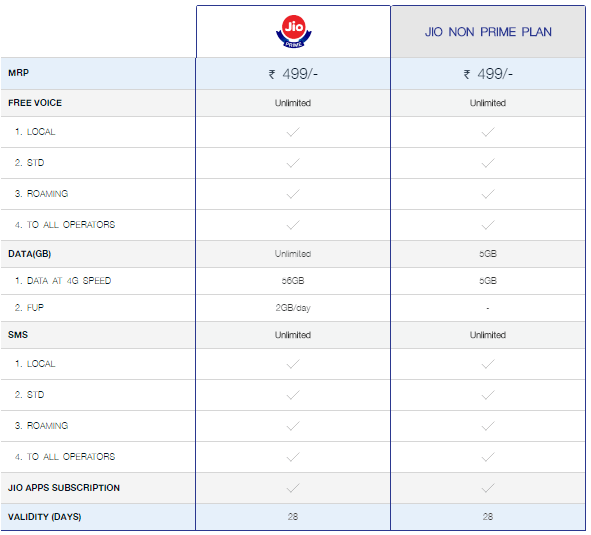 The more you pay, the more you get. Rs. 499 plan gives you 56GB of 4G data for 28 days and for postpaid users the data is 60GB. The benefit is that you will get 2GB of 4G data per day.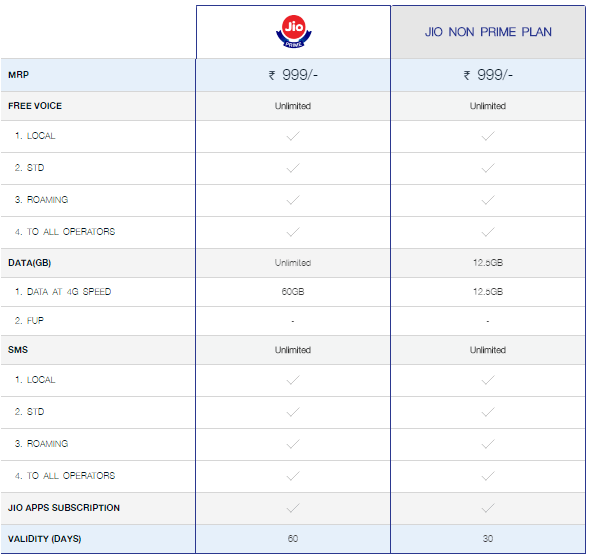 Rs. 999 plan will give 60GB of data with no FUP which is valid for 60 days. While the postpaid users will have the same data for single bill cycle ie. 30 days.
All these plans also give you free access to Jio's exclusive apps that include JioTV, JioTV Music, which include digital content. These apps are also free for users, though Jio plans to introduce membership charge of Rs 4,999 per year for these. But that's not happening yet.
How can you Sign-Up Jio Prime Membership?
You will have to get the Jio Prime Membership before March 31, after that you'll have to go with the regular packs. In order to get the Jio Prime membership, you can just sign up from your smartphone. Follow the steps below:
Download the My Jio app on your smartphone.
Login/Sign-Up while using the internet on Jio sim. It will log you in instantly.
Open the side menu, you will see Jio Prime Membership on top.
Tap it. You will see two options Get Jio Prime or Gift Jio Prime.
Tap on Sign up for Jio Prime Membership.
You will be taken to a payments page for Rs. 99.
You can pay via Credit, Debit Card, Debit Card + ATM Pin, and Internet Banking.
Once you are done with the payment you can go back and scroll the Internet Pack for Jio Prime Members.